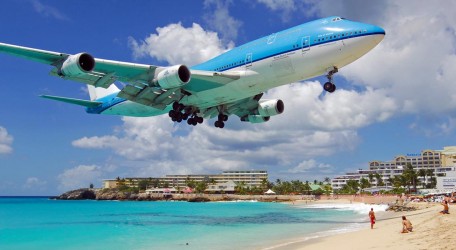 Princess Juliana International Airport (SXM), on the Caribbean Island of St Maarten, is the latest airport to implement Shireburn's Concessionaire Analyzer+ software solution that will enable them to better manage and boost airport non-aeronautical revenues. Such income is today a topical subject within the industry as more airports continue to depend on it for profitable operation.
Two members of the Shireburn Implementation and Support Team, Jonathan Cassar and Terence Vassallo, have in fact just completed the initial airport staff training on site in St Maarten. "We are very proud to be working with SXM, a leader in its region with an average of 1.6 million passengers passing though it yearly" said John de Giorgio, Managing Director of Shireburn Software. "Shireburn continues to gain ground internationally with its unique CA+ product."
Shireburn continues to promote CA+ and has also recently returned from exhibiting its solution at the ACI Annual General Assembly in Seoul, Korea, and was earlier this year exhibiting in Barcelona and Zurich. With increasingly growing interest for the solution amongst airport executives, Shireburn plans to continue to expose their solution to more airports in the second half of 2014, in particular exhibiting in Atlanta, USA in September, Paris at Airport Exchange in November and at the ACI Latin America event in Cancun, Mexico.
CA+ automates the collection of sales data from airport concessions, enables analysis of sales patterns and business intelligence through its BI platform and revenue/billing of concessions. SXM will be able to better understand sales patterns with the aim of maximising performance, while improving control and auditing of this crucial function.
SXM will also be utilising the contract management, revenue calculation and billing automation functions of CA+. And whilst some concessionaires are retaining their current point-of-sale and back-office systems utilising an interface that integrates automatically with CA+, other concessionaires will be implementing Shireburn's own Airport.POS as a standard point-of-sale solution, allowing real-time transaction level integration with boarding pass scanning for deeper data collection and analysis.
"Through the implementation of CA+, our commercial team will be able to closely monitor sales patterns, identify category performance, benchmark concessions and more quickly identify trends in order to ultimately improve our non-aeronautical revenues as a percentage of total revenues." said Regina LaBega, Managing Director at SXM. "We will also be able to better control our operations."
The recent move to SkyParks Business Centre and the continuous expansion of the team allows Shireburn to continue to provide innovative solutions for both the local market as well as the growing overseas arena.