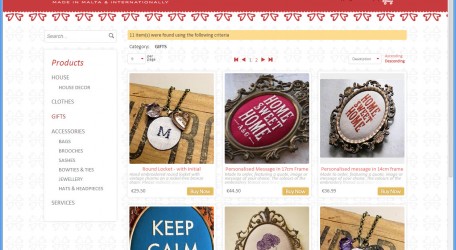 Shireburn Software has announced the latest merchant to be using their eStore. MimiGiftBoutique.com is an online collective of artisans and crafts-people, predominantly based in Malta, selling handmade, embellished or cherished items.
The aim of MimiGiftBoutique.com is to market such wares to Maltese communities overseas, tourists and locally to promote the talent within the community. Artisans and crafts people are hand-picked to deliver their unique, quality merchandise and utmost customer service.
"It's great to know there is a robust solution like Shireburn that can scale for businesses like ours, giving us the same capabilities as retail giants," said Maria Muscat, of Babbettopolis, one of the brands represented on the site. "The other options are marketplace style sites where you are amongst hundreds of artisans. MimiGiftBoutique offers us the chance to stand out."
John de Giorgio stated "Shireburn's eStore is used by a number of retailers and B2B suppliers, including Golden Gate and Retail International's Winedrop.com, which delivers Marks & Spencer goods locally, amongst others. These sites have seen an upturn in sales and reduced workload due to the high degrees of integration to the Shireburn inventory and accounting solutions after they converted from stand-alone web sites using Excel to Shireburn's solution".