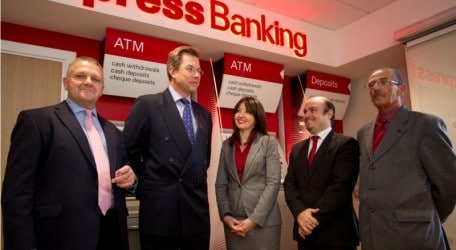 HSBC Malta's branch in Żabbar has been refurbished and now meets the HSBC Group Branch of the Future standard. The Branch has received a major make-over and features a revamped layout with five new office spaces and two counsellor positions with improved privacy.
The Branch has also been fitted with two latest technology Automated Teller Machines (ATMs), which offer the same high quality functionality and improved accessibility as is available in HSBC branches throughout the world. Also available are a self-service Deposit Machine, an internet kiosk with a private desk and direct access to HSBC's contact centre.
"The superior customer experience at the new branches was achieved through close attention to our customers' evolving needs, with special attention to the community requirements as per the branch's layout and the specialised customer experience training given to our staff," said HSBC Malta CEO Mark Watkinson.  "As well as being more attractive and comfortable, the redesigned layout of the new branches offer more private areas in which customers may discuss their banking requirements and financial decisions."
Like other employees working in newly refurbished branches, HSBC Żabbar employees, led by Julie Bonnici and Sandra Cassar, have undergone new training on customer centric principles to tie in with the global concept of the new design HSBC branch.
With the addition of the two new ATMs in Żabbar, the total number of next-generation ATMs inMaltaand Gozo has gone up to 39.  This development is in line with HSBC's €10 million branch refurbishment programme, as well as a further €3 million in the installation of next-generation ATMs. HSBC's newly refurbished branches are located in Buġibba, Ħamrun, Swieqi, Paola, Żejtun, Mosta, Żurrieq, San Ġwann, B'Kara and Żabbar.
HSBC is investing heavily to bring world class technology and improved functionality and performance for the benefit of both customers and staff. The new functionality includes the option to view a receipt with the number and value of the deposited notes, before the deposit is actually carried out, and the deposited cash is instantly credited to the customer account once the transaction is accepted. Furthermore, cheque deposits are also available without the need of an envelope, and customers receive a printed image of the cheque on the receipt.
"HSBC's new ATMs represent an important advancement, offering increased functionality, quicker service, and a more straightforward user experience," said Paul Steel, HSBC's Head of Retail Banking and Wealth Management. "Amongst their other benefits, the new ATMs accept loose cash and cheque deposits without the need for a deposit envelope, while also providing customers more detailed information about their transactions.
HSBC Malta's online Map Locator, available at www.hsbc.com.mt/find-a-branch, provides an interactive map with up-to-date information about the location and availability of HSBC Malta's branches and ATMs.