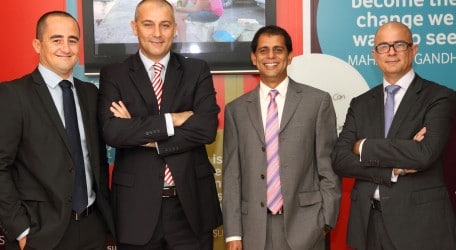 Pictured from left to right: Michael Coney, Joseph Cuschieri, Balesh Sharma and Sandro Pisani
Vodafone Malta is pleased to announce some exciting new changes to its organisational structure. The changes have been implemented to provide additional focus on the different segments of the business and to better support its business strategy in ever changing market conditions. It also brings Malta in line with the Vodafone global organisational model. Vodafone's Marketing and Commercial departments have now been restructured into three sections namely the Enterprise and Wholesale Unit, Consumer Business Unit and Commercial Operations unit. These three verticals are represented directly on the Company's Executive Committee by their respective Heads.
Joseph Cuschieri has recently relinquished his position of Chief Commercial Officer to pursue his career further by setting up his own advisory services practice, something which he has been planning for some time. To this effect, the Enterprise and Wholesale Business Unit will temporarily be headed by Joseph Cuschieri who held the position of Chief Commercial Officer since October 2007. He was previously Vodafone's Head of Public Policy and Affairs. Mr. Cuschieri will be working full time with Vodafone Malta until May 2013.
"I am delighted and very excited that after 7 years of service with a global company like Vodafone, I am moving on to set up my own business. Looking back at the last 7 years, I feel proud to have been an agent of change and a key contributor to Vodafone's success and market leadership. I am also pleased that through my career move, I have created space for local talent to grow and take over senior roles within the Company".
Mr. Cuschieri's affiliation with Vodafone is not likely to end next May. Apart from being engaged with Vodafone in an advisory role immediately after 31 May 2013, he has also been appointed Director on the Board of Arabia Mobile Services which is an MVNO operating in Milan. The company is owned by Vodafone Egypt and provides mobile telephony services for the Egyptian community in Italy.
The Consumer Business Unit will be headed by Sandro Pisani. Mr. Pisani has returned to Vodafone Malta after an 18 month stint with Vodafone Egypt where he sat on the Executive Committee as Strategy Director.  During this time Mr. Pisani was also CEO and Director of Arabia Mobile Service. Before moving to Egypt, Mr. Pisani had been for 10 years with Vodafone Malta and occupied a variety of roles including Chief Strategy Officer and Head of Technology. "After spending time abroad, I am really glad to be back to Vodafone Malta. Every time I move abroad for work, I always come back refreshed and looking forward for a new challenge, and this time round it's not different. Leading this Unit means that I will be able to focus more on our consumers needs and provide our consumers with offers and services that truly meet their needs," said Sandro Pisani.
Michael Coney has been promoted from the position of Customer Operations Manager to Head of Commercial Operations unit. Mr. Coney has a Corporate finance background and has been working with Vodafone Malta for the past 8 years two of which were spent in the UK as Commercial Marketing Manager working with Vodafone Group. Mr. Coney, who will now form part of the Company's Executive Committee, stated "I feel privileged to have been given the opportunity to head such an important function in our organisation. The function's role is to ensure that the Customer has the best possible experience in all interactions with Vodafone. This restructuring is an affirmation that our customers are at the heart of all our activities".
Balesh Sharma, CEO of Vodafone Malta, described these changes as very exciting opportunities for a good number of Vodafone's team members. "These people are all role models who have concentrated heavily on their career development," he said. "Over the years they have been very open to many changes and opportunities that Vodafone provides to further their knowledge and experience. It is truly my pleasure to see how people can move from one company to another within Vodafone and how ultimately local talent is always appreciated and valued."