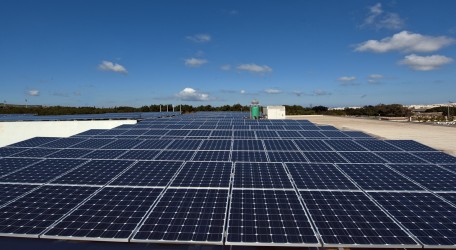 Nectar Group's boldest eco-friendly project yet is the installation of Malta's largest solar photovoltaic system, reducing energy bills by 70% annually. Working together with consulting engineers Ing. Paul Refalo and Ing. Warren Vella from Zenith Consulting, Nectar Group opted for a solution that best utilises solar energy per un-shaded roof area
By partnering and combining Hyundai Heavy Industries (HHI) and SMA technology, knowledge and financial capability, Solar Solutions Ltd designed, installed and commissioned the company's largest photovoltaic project (150kWp) at Nectar Group in Malta, comprising of 700 panels.
Nectar's Solar Photovoltaic System has been identified as one of the Best Practice Renewable Energy Installation by Ing. Gintaute Misiukaite, from the Institute for Sustainable Energy, within the University of Malta for the 'Renewable Energy Scenarios in Islands' (RESI) project in collaboration with the Malta Resources Authority (MRA).
M.R.A. and the above mentioned institute organized an exchange programme together with a Sicilian delegation composed of 30 delegates, including potential investors and stakeholders from the Province of Ragusa and the Province of Agrigento, to view this installation and consider a similar solution.
Mark Bugeja HR & Quality Manager from Nectar Group, Ing. Warren Vella from Zenith Consulting and Karl Azzopardi from Solar Solutions Ltd gave a detailed presentation on the reasons why and how it was decided to install the system.
"At Nectar Group, we have installed an innovative and pioneering application. The project's aim is to service Nectar Group's energy needs in a renewable and sustainable manner while contributing to the use of environmentally friendly measures. Furthermore, our system will be featured in a renewable energy atlas which will be published online and printed in several thousands of copies," explained Mr. Mark Bugeja.