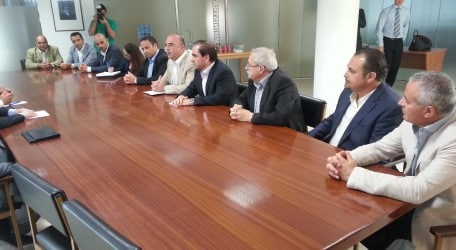 Malta Developers Association President Sandro Chetcuti described the meeting this evening between the Council of the MDA and Opposition Leader Simon Busuttil as "historic" since it was the first time that the Nationalist Party had invited the Association to such a meeting.
Mr Chetcuti introduced the MDA Council and outlined what the Association stands for and how it works. "The MDA is a lobby group that tackles principles and sees the effect of development on the country holistically. We want a level playing field and seek sustainable development that leaves an environment in which investment will obtain greater returns," he said.
The MDA has made a huge contribution to the debate on such issues as the Floor Area Ratio, with the government accepting a lot of the advice of its experts. The Association wishes to strengthen its relations with the Nationalist Party and to establish an ongoing exchange of ideas so that it would be able to explain to it what is beneficial to the country.
Construction, Mr Chetcuti affirmed, is one of the big drivers of the economy, along with tourism, and just as the Nationalist Party was pro-business in the late 1980s the association wishes that the party would take a similar stance today.
Dr Busuttil was accompanied at the meeting at PN headquarters, Pieta, by Ryan Callus, spokesman on Planning; Tony Bezzina, spokesman on Transport and National Infrastructure; and Robert Arrigo, spokesman on Tourism.
In his intervention in front of the media, Dr Busuttil said that he wishes the party to build a relationship with the MDA because unfortunately in the past the relationship was not so good. He added that he does not look at developers in a negative way. On the contrary, he recognises their contribution to the economy. He insisted that he wants to meet the MDA regularly,
Dr Busuttil said developers must not be given a blank cheque. Space was immensely limited and it was important both for the environment and the economy that there should not be a free for all. Neither should  there be a property bubble like there was in a number of countries, like Spain and Ireland.
It was important that there should be a balance and not to go from one extreme to another. The current government's policy was too much of a free for all. The Opposition is open to listen and to take a constructive view to what is going on in the country.