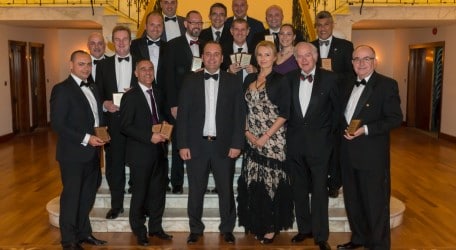 Pictured above: The award winners with Minister Chris Cardona, Mrs Lesya Cardona and Malta BNI Director David Bullock (second from right) 
Malta is now taking steps to brand itself more effectively to the world. We have an enterprise culture, we invest in education, and we like to compete in the world.  As Government, we welcome organizations, such as Malta BNI, which trains and develops its members as professional business people. With its philosophy of 'Givers Gain' and its structured, positive and professional approach, BNI has great optimism about the business potential in Malta.
 This was stated by the Minister for the Economy, Investment and Small Business Dr Chris Cardona at the second Annual Awards Dinner organised by Malta BNI to celebrate its three years in Malta.
Forming part of the largest business networking organisation in the world, Malta BNI today is made up of five chapters each comprising members who build long term relationships and are sincerely committed to helping one another find more business through BNI's 'Givers' Gain' philosophy and business referrals.
As BNI Founder Dr Ivan Misner explains, BNI (www.bni.com) is about creating an awareness of the process of networking. Not just any kind of networking, but 'relationship networking'– an approach to doing business based on building long-term, successful relationships with people through the networking process.
Malta BNI National Director David Bullock said: "As a disciplined, diverse, and determined organisation spreading in this country, BNI is becoming a valuable first port of call for visiting businessmen and businesswomen to Malta.  They are introduced to others who are also hands-on business people and who understand what is required to build a profitable business and to survive in these challenging times."
The awardees were:
Outstanding Ambassador: Carmel Bonello
Outstanding Ambassador:   Jankarl Farrugia
Outstanding Ambassador:   Ian Hawkes
Outstanding President:  Ivan Azzopardi
Outstanding President:  Stanley Bonello
Outstanding President:  Patrick Hall
Outstanding Vice-President: Janice Briffa
Outstanding Vice-President: Paul Ellul
Outstanding Vice-President:  Ian Portughes
Best Education Co-ordinator: Nicolette Micallef
Outstanding Visitor Host: Gordhan Mohnani
Outstanding Visitor Host: Martin Parker
Outstanding Contribution: Adrian Archer
Outstanding Contribution: Richard Falzon
Outstanding Contribution: Gordon Pace
Outstanding Contribution: Steve Micallef
Outstanding Contribution: Enrich Stafrace
Outstanding Support: Etienne Scerri
Outstanding Support in Chapter Launch: Randall Parker Turner Group
Inter-Chapter : Verdala Chapter.
The Water's Edge Hotel in Birżebbuġa was also presented with a plaque for hosting BNI weekly meetings.
 These annual awards recognise and celebrate the achievements of several Malta BNI members.  BNI offers its members the opportunity to share ideas, contacts and, most importantly, business referrals. BNI chapters, of which now there are five in Malta, comprise members who are sincerely committed to helping one another find more business through networking and word of mouth referrals.
Figures just released show that, in Malta, notwithstanding Malta BNI is still in the initial stages, its members have passed business referrals generating well over €2.5 million worth of new business for members.  Across the globe, BNI members have passed 7.1 million business referrals generating over $3.3 billion worth of business for members.  Cumulatively, since 1985, BNI has generated over $27.7 billion in business for BNI members.
The five chapters – all named after Grand Masters – meet in Sliema & Birżebbuġa (Tuesdays), Attard (Wednesdays), Floriana (Thursdays) and St Julians (Fridays). Current membership stands at over 120 members from a wide range of businesses of all sizes.
More information about Malta BNI can be obtained from [email protected] and tel 2546 6601, or [email protected] on tel 2124 3211.
A sumptuous dinner was prepared by Island Caterers Ltd at the Radisson Blu Hotel St Julians.