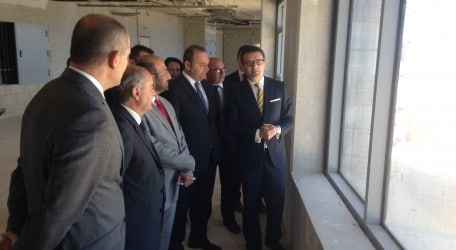 Minister for the Economy, Investment and Small Business, Dr. Chris Cardona, today announced that the Lotteries and Gaming Authority (LGA) will be setting up new offices at Smart-City Malta in Kalkara.
During an on-site visit, Minister Cardona toured Smart-City Malta together with Mr. Abullatif AlMulla, Chairman and Anthony Tabone CEO of Smart-City Malta respectively.  Accompanying Minister Cardona were the Hon. José Herrera, Parliamentary Secretary and Joseph Cuschieri Chairman of LGA.
The agreement between LGA and Smart-City Malta was signed by Mr. Joseph Cuschieri and Mr. Anthony P.  Tabone on behalf of their respective organisations.
Welcoming the distinguished guests, Anthony P. Tabone, Smart-City Malta CEO, expressed his satisfaction in welcoming the LGA to Smart-City Malta and said that "We are proud to welcome the Lotteries and Gaming Authority to Smart-City Malta. Our vision at Smart-City Malta is to continue to create a global network of self-sustained business townships to foster the knowledge economy, whilst continuing to generate jobs.  During the past months we have welcomed on board several new business partners in sectors ranging from tourism, F&B, media, ICT and back-office operations. Among these business partners are FTIAS, Ammcom Limited, TMF Group,  Heritage International Fund Managers (Malta) Limited, STK Limited as well as Food & Beverage tenants, Wejla by Tartarun, Chocafe, Londoner Pub and several others."
In a statement to the media, Minister Cardona said "I believe the Lotteries and Gaming Authority are making a wise move. By taking up residence at Smart-City Malta, they will be at the centre of the action. The Authority is a beacon, illustrating what Malta business is all about. It enables companies to come here and prosper, within a well regulated framework. It understands the need to let business find its feet and grow within a framework of responsibility and flexibility."
"The Maltese economy is performing well. We have economic growth and this is not just something that the Government is saying. The European Commission has just announced that it is expecting the Maltese economy to continue to grow "robustly" in the coming two years and the economic activity in Malta surprised positively in 2013 with a real GDP growth of 2.4%."
In his first public address concerning the LGA, Parliamentary Secretary Dr. José Herrera stated "Smart-City Malta is evolving into an ICT / Digital entertainment hub and therefore the relocation of LGA offices to this site further reinforces Government's objective to support private initiatives. This setting up of new offices is a step in LGA's repositioning strategy intended to further strengthen the regulatory authority. This Authority aims to become an international recognized centre of excellence in gaming regulation covering both land based and gaming operations."
Commenting on the selection of Smart-City Malta as the LGA's choice, Chairman Joseph Cuschieri stated "The evaluation exercise carried out earlier this year was a tough one; however we firmly believe we are making the right choice!  Smart-City Malta is an ideal location for ICT and digital entertainment operators; hence having the LGA offices at Smart-City Malta has the strong potential of attracting gaming companies to this place; with the possibility of creating a new remote gaming/digital entertainment hub."
Mr. Cuschieri added: "The signing of this agreement today is a very important part of the overhaul taking place at LGA. We are looking forward to making this exciting move to such a professional set up. Both our employees and also our regulated companies will surely endorse this move."