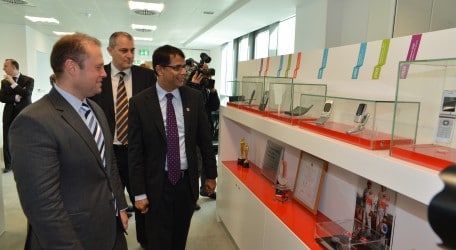 Labour leader Joseph Muscat, visited Vodafone's new Head Office at SkyParks Business Centre, where he was greeted by Balesh Sharma, CEO at Vodafone Malta. Balesh Sharma explained how the move to the new Head Office introduced innovative concepts among employees and this investment helped the company introduce new sustainable measures which the company has always been aiming for.
"We embarked on a strategy that will reduce the digital divide that exists today, trying to put in our effort, by making our devices and our technology affordable to all, whilst providing the latest technology to the public at large," said Balesh Sharma during the Labour leader's visit at Vodafone's new Head Office in SkyParks Business Centre. "We also believe that Vodafone can help families and businesses reap all the benefits that the latest technology can offer. Today the mobile phone is a daily companion for most people and I believe that its potential has yet to be fully maximised so as to make access to services easier for everyone." Sharma referred to Vodafone's family-friendly measures and he emphasised that such measures are to be looked upon as positive both for the employees and the company itself. He concluded by saying that Vodafone are optimistic about their future in Malta because they are confident that the telecommunications industry will continue to flourish for the benefit of all.
In his speech, Opposition Leader Joseph Muscat said that Vodafone can be a leading example on how companies can reap the benefits of family-friendly measures. "Vodafone is a leading example in the area of companies offering family-friendly measures. This is a living proof that such family-friendly measures are of benefit not only to the employees but also the company itself. Vodafone has a low labour turnover even thanks to these family-friendly measures which are helping all employees alike." Dr Muscat also committed to offering all industries investing in Malta a level playing field as well as a well-regulated market.
Joseph Muscat toured around Vodafone's Head Office where he met the company's employees and he could see in practice the innovative working methods the company has adopted. With its move to the new Head Office, Vodafone adopted a number of family friendly measures such as flexible working hours, 3 extra weeks of maternity leave with full pay and the right to reduced hours following the birth of a child among others. This positive working environment brings people closer together, instils trust and encourages the right atmosphere that promotes collaboration under one common brand.