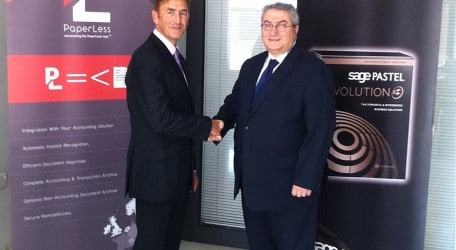 Caption: Phil Richards, Business Development Manager at PaperLess Europe's Sliema office (left) and Joe Pullicino, Managing Director of Information Technology Services 
PaperLess Software Europe Limited, whose European headquarters is in Sliema, is pleased to welcome Msida-based Information Technology Services Limited as their Business Partner in Malta for Sage 50, Sage Pastel Evolution, Sage Pastel Partner and Iris Exchequer.
Information Technology Services have configured an in-house developed Smart EvoSync program for PaperLess to integrate with Pastel Evolution, which will offer the global market an efficient way to streamline their accounting processes and manage electronic documentation using PaperLess integrated with the customers' Pastel Evolution.
PaperLess is installed in over 1,700 client sites in Europe and is the market-leading product in Scandinavia for both accountants and accounting departments who want to save time and reduce the costs of managing business documents throughout the organisation.
Information Technology Services was founded in 1993 and has since established itself as a front-runner in the local accounting software market. It employees a team of five specialists, including software developers, support and software consultants, to ensure customers receive a high level of support for all the accounting software solutions supplied.
Chris Farrugia, Director of Information Technology Services, said: "For a while now our clients have been asking us for new technology to help them reduce their internal accounting costs and streamline their business processes. We are now pleased to be able to supply PaperLess with our in-house developed Smart EvoSync integration with the Pastel Evolution, which means we can now offer worldwide markets this exclusive solution from ITS and PaperLess."
Phil Richards, Business Development Manager at PaperLess Software Europe, said: "PaperLess is glad to have Information Technology Services as our business partner as well as a professional integrator specialised in Sage Pastel Evolution. Working with the strong technical team here, we are confident that all organisations looking for efficiency improvements and time-saving systems will find exactly what they need from PaperLess and ITS."
s