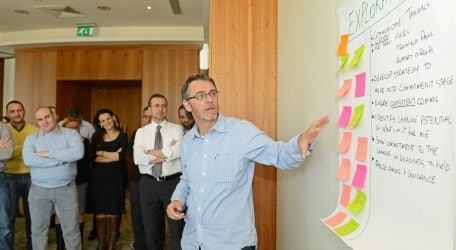 HSBC Bank Malta brought together business leaders from four prominent Maltese businesses for the second inter-company leadership development programme called 'Crossover'. An  inter-company seminar's panel, formed by HSBC Malta Retail Banking & Wealth Management (RBWM) Head Paul Steel,  Playmobil Malta CEO Mattias Fauser, Island Hotels Group CEO Winston J. Zahra,  Lufthansa Technik Malta CEO Stephen Drewes, and Simonds Farsons Cisk CEO Norman Aquilina, met with their respective employees at the Radisson Blu Resort, Golden Sands, to discuss and shed light on how to tackle their particular business challenges, as well as to share best practice  and techniques for addressing change to build on success stories.
The aim of the development programme was to bring together the talented leaders from the different successful companies and market sectors within various Maltese industries to help participants gain a better understanding of the changes taking place in different organisations. Each panel member shared effective strategies on the challenges affecting their companies and the market in Malta, their expectations from their leaders and managers as well as some advice on how to achieve personal success.
"Customer expectations have changed dramatically in the last few years," said Paul Steel from HSBC Bank. "Businesses nowadays must be quick, not only to adapt into the fast paced changing world, but to remain competitively ahead. We are constantly facing new opportunities, new products and new business initiatives. Leading our employees through change, we need their commitment in order to achieve the desired results to enhance the business performance."
The programme also helped the participants to build more relationship networking between companies and to seek ways how best they can work together to address on-going developments in an increasingly dynamic marketplace.
The participants received a presentation from the Richmond Foundation. The companies will be working on a Corporate Social Responsibility (CSR) project together with the Richmond Foundation with the aim of increasing awareness about mental health wellbeing and enrolling a number of corporate clients to benefit from the support and services Richmond Foundation offers.