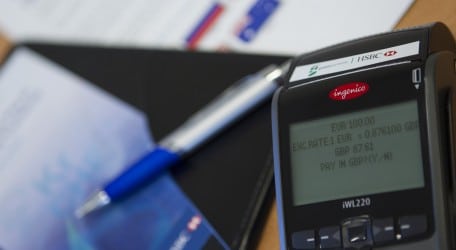 Dynamic Currency Conversion (DCC) is a convenient service provided by HSBC Merchant Services, a wholly-owned subsidiary of Global Payments Inc., that allows international cardholders the choice to pay for goods and services in either their home currency or in euro via the Point of Sale (POS) terminals.
Holders of international Visa and MasterCard credit and debit cards can now be offered a new option of payment which allows for easier administration of personal accounts and smoother purchasing.
DCC is a pure win-win situation for cardholders and merchants alike. There are no hidden DCC charges and it is easy to use.
Whilst travelling in a foreign country, customers faced with a different currency to their own have to wait for their monthly statement to find out the relevant rate of exchange and amount charged. This conversion rate, together with any other additional bank charges, could surprise the cardholder when faced with their statement after their travels. With DCC, international cardholders now have the ability to choose to pay in the local currency or in the currency of their card. The rate of exchange is not an arbitrary one—HSBC Merchant Services will provide a daily rate from Reuters.
When a POS terminal is DCC-enabled it immediately prompts the merchant that a payment card with a DCC-supported foreign currency was detected. Merchants can then offer the cardholder the choice to pay in their card's currency or in euro.
Euro remains the default currency in any transaction and, if cardholders choose the currency of their card, the euro amount remains visible on the receipt. The service will initially be available in 8 different currencies including GBP, RUB, NOK, SEK, DKK, USD, AUD and CHF.
Merchants are bound to inform their customers about the currency options available and all of the usual safeguards for card transactions will remain in place whenever the cardholder opts for DCC.
DCC will be highly appreciated by Merchants here in Malta. Not only will they be offering greater customer service to their customers, but they will benefit from additional revenue by offering this service.