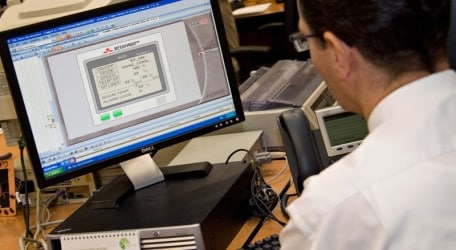 Pictured above: Victor Friggieri demonstrates HSBC Malta's Building Management System which significantly reduces energy consumption in HSBC Malta's buildings and branches. 
In today's business world, forward thinking companies are becoming increasingly aware of the important and diverse benefits of corporate sustainability. As a result, responsible companies of all sizes are adopting business practices that are sensitive to social and environmental considerations. HSBC has been at the forefront of this movement, having long upheld corporate sustainability as its central drive towards responsible and sustainable growth with the community's social, environmental, and economic well-being at heart.
For over 10 years, the HSBC Malta Foundation managed a far-reaching community investment strategy with an emphasis on three main pillars: education – particularly that of underprivileged children – the environment, andMalta's heritage. Thus, the bank's contributions, support, and its employees' voluntary assistance are delivered where they are most needed, and in a way that builds stronger relationships with long-term benefits to the community.
"Community investment is an intrinsical part of HSBC's identity, and one that offers a positive and productive way to remain close to the community while generating added value for the company, clients, and employees alike," explained HSBC Malta's CEO, Mark Watkinson. "Our ongoing investment in the community embraces new opportunities for positive change while managing risks from environmental and social developments."
Achieving sustainability
Through the effective application of environmentally sustainable practices and the latest technologies for saving energy, HSBC Malta brought about remarkable reductions in its energy consumption per employee.
"Most of HSBC Malta's buildings are fitted with a bank-wide Building Management Systems (BMS) which leads to significant reductions in energy consumption by providing centralised control over energy consuming devices such as air-conditioning and water heaters," said Ranjit Gokarn, HSBC Malta's Chief Operating Officer.
"HSBC 'intelligent lighting' uses sensors to turn off lights once an area is vacated and we have replaced all of HSBC Malta's 700 halogen lamps with LED equivalents," said Mr Gokarn. "LED lights are 5-times more energy efficient, and have a 5 fold increase in extended life expectancy."
Water: Malta's most precious resource
Malta is ranked among the top ten countries for water scarcity in the world, with a natural supply of freshwater that only meets around half of the demand. HSBC's recently launched $100 million Water Programme will see HSBC working with WWF, WaterAid and Earthwatch to address water risks in river basins, to bring safe water and improved sanitation to more than a million people, and increase awareness about the global water challenge. This 5-year programme offers organisations, individuals, and HSBC Employees the opportunity to forward proposals and compete for funding for large-scale water projects.
Running in parallel with this is the Malta Business Bureau's €330,000 'EU Life+ Investing in Water' project. HSBC Malta was among the first companies to enrol in this 30-month project that seeks to identify water saving solutions within businesses.
The Bank is very concerned with respect to the over extraction of water from boreholes as this is a potential threat to the islands' vulnerable natural water resources. HSBC Malta maintains a storm water reservoir – which, in 2011 alone, provided 950,000 litres of second class water. The Bank is on the lookout for private disused reservoirs to meet the bank's 2nd class water demand.
Water Aerators installed at HSBC's main building give an estimated saving of 25 – 65% through the installation of fittings with various water saving technologies such as half-flush facilities and water restrainers on taps.
HSBC employee involvement
"Corporate sustainability is at the very heart of HSBC's practices – with an emphasis on the wellbeing of our workforce and investment in best-in-class organisational practices and benefit programs. This goes a long way towards ensuring employee satisfaction. HSBC employees are fully encouraged and given every opportunity to be involved in sustainability initiatives, from the conception of worthy projects, through to their implementation and reviews that follow." explained HSBC Malta's Chief Operating Officer Ranjit Gokarn.
Worker of the Year Award
Victor Friggieri, HSBC's Manager for Energy and Sustainability, is one such employee who distinguished himself through his dedication to corporate sustainability. Mr Friggieri earned a number of awards for his contribution, most recent of which is the Worker of the Year award 2012. He also initiated an ongoing HSBC Malta campaign to save water and energy which led to a 20% reduction in the bank's carbon footprint over four years. In recognition of which, HSBC Bank Malta was awarded the prestigious Environment Award For Industry.
"One must remain positive, goal oriented, and believe that every little bit helps in the drive towards more sustainable living, said Mr Friggieri. "While we use many industry-leading technologies to reduce consumption, simple ideas from employees have also led to remarkable gains, such as the idea of turning air-conditioners off 15 minutes before leaving the office."
Another element in HSBC's corporate strategy has been its ability to rally support from non-governmental environmental organisations in the assistance of environmental projects. Mr Friggieri helped organise numerous initiatives, ranging from the planting of thousands of indigenous trees at Xrobb l-Għagin Nature Park to the conservation of leatherback turtles inCosta Rica.
More information about the bank's corporate sustainability activities is available on the 'HSBC in the Community' section of their website at www.hsbc.com.mt