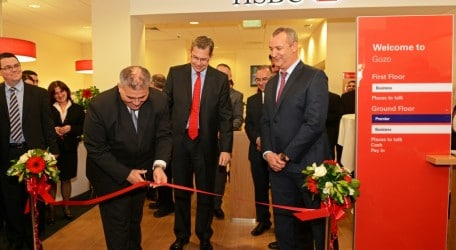 The HSBC branch in Victoria Gozo has been reopened following a major refurbishment and is the latest of a series of investments the bank is making in its operations in Malta. The Victoria branch now offers an enhanced layout featuring 14 new office spaces and 3 counsellor positions for improved privacy, together with the very latest in Express Banking technology and an upgraded IT system.
"This newly refurbished branch is now even better equipped to serve our clients in Gozo, including the thousands of Maltese and tourists that visit this island throughout the year," said HSBC Malta Head of Retail and Wealth Management Paul Steel.
"HSBC is investing heavily to bring world class technology and improved functionality and performance for the benefit of customers and staff alike. This is the twelfth HSBC Malta branch to be upgraded in line with the bank's €10 million branch refurbishment programme, over the last 2 years. A further €3 million investment has gone towards upgrading all of HSBC Malta's ATMs to next-generation models which, together with the branch upgrades, are bringing our branches in line with the HSBC Group's highest standards," he said.
Present during the Gozo branch reopening were also HSBC Malta's CEO, Mark Watkinson, the Minister for Gozo, Dr Anton Refalo, Victoria Mayor Dr Samuel Azzopardi, HSBC Malta's Northern Area Director Anthony Buttigieg and the Branch Manager Patrick Fenech.
In his address, the Minister for Gozo Hon. Anton Refalo stated that the statement of the Gozo Ministry is to significantly ameliorate the lives of the Gozitan people. Two of the most important means to attain this goal are the attraction of foreign investment to Gozo and the creation of employment for Gozitans in Gozo. In this view, Hon. Anton Refalo expressed his gratitude towards the investment of HSBC in Gozo and stated that he considers HSBC not merely as a commercial bank but as a stakeholder with whom to collaborate in order to achieve its aims. The Minister for Gozo showed his determination to work hand in hand with the financial sector to encourage further investment in Gozo which still has a lot of untapped resources. "The financial sector, of which HSBC is an important component, is as strong in Gozo as it is in Malta. Proof of this is this huge financial investment which HSBC has imputed in the expansion and refurbishment of its Branch in Victoria", stated Hon. Refalo.
Together with the branch in Victoria, HSBC has refurbished its branches in Buġibba, Ħamrun, Swieqi, Paola, Żejtun, Mosta, Żurrieq, San Ġwann, B'Kara, Sliema and Żabbar.
The Victoria branch offers continuous service from Monday to Thursday between 08.30 to 13.30hrs. On Friday the Victoria branch is open between 08.30 till 16.30hrs and on Saturday the opening hours are between 08.30 to 12.30hrs.