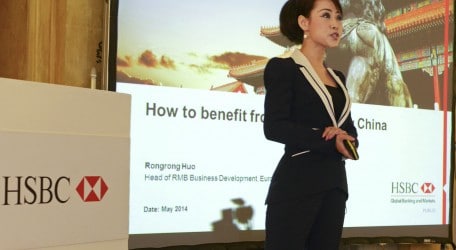 How to benefit from a liberalising China
As trade opportunities between Malta and China are growing, HSBC Bank Malta is uniquely positioned as the first bank in Malta to offer the facility of trading with China through direct Trade Settlements in the Renminbi (RMB) currency, offering Maltese businesses a distinct trade advantage and helping financial institutions understand the RMB investment opportunities.
This was stated by HSBC's Head of RMB Business Development, Europe, Global Banking & Markets, Rongrong Huo (pictured above), at the latest HSBC Malta Business Breakfast entitled "RMB: Supporting rising ambition".
HSBC's Rongrong Huo is responsible for shaping the Banks' RMB strategy and driving client execution across HSBC's global capital financing.
She said that China continues on its path towards greater economic liberalisation, new opportunities and benefits for global trade in China's renminbi (RMB) are arising. Moreover, by internationalising RMB through offshore financial markets, China is achieving new levels of openness and transparency while continuing to relax rules over its home market and making further actions towards RMB full convertibility under capital account. China is not just the global trade dominator. It is now the third biggest global investor behind the US and Japan, with outbound investment growing at an average of 35 per cent between 2005 and 2012. By 2017, China is set to become a net investor in the world, after the US. The world stands to gain from Chinese capital in the coming years.
Among the topics covered during her presentation, Ms Huo explored the various benefits for global business arising from liberalised China, the new potential arising from China's internationalisation progress and the rising importance of RMB in this process. Important trends for corporate and financial institutions were also discussed with a vision for future business development. She also emphasised the importance of China's globalisation and the rise of the RMB concept, which might be at its early stages for countries like Malta in terms of positioning themselves so as to capture two way strategic flows via trade and investment.
HSBC Malta Chief Executive Office Mark Watkinson said: "There can be no doubting the rising importance of Chinese currency in the global economy. In 2009, RMB was a little known currency but in the following four years, it grew to account for 8% of world trade and its growth continues."
"As the leading international bank for RMB business, HSBC is well placed to support businesses looking to be a part of this growth. Coupled with HSBC's €50 million "Malta Trade for Growth" Fund, this makes business trade between Malta and China more attractive, straightforward, and advantageous," said Mr Watkinson.
HSBC Malta Head of Global Banking & Markets James Woodeson gave a brief overview of the economy in Malta with fresh perspectives on how businesses in Malta can be a part of this growth.
Chev. Maurice Mizzi gave a short talk on trading with China, and in his closing speech, HSBC Malta's Head of Commercial Banking Michel Cordina emphasised how these thought leadership sessions that are organised by HSBC subject experts can support local businesses to grow and help the Maltese economy to prosper.
The growing use of China's currency worldwide is creating new trade, capital investment and financing opportunities for companies doing business with or in the mainland. Benefits for corporates of using RMB may include improving working capital, simplifying processes and mitigating payment risks. Pilot schemes such as Shanghai Free Trade Zones could represent many potential opportunities for both Corporate and FI clients.