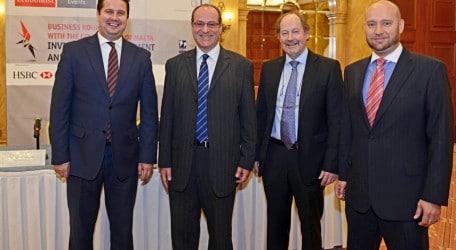 Pictured above: Parliamentary Secretary for Economic Growth Edward Zammit Lewis, HSBC Malta's Head of Commercial Banking Michel Cordina, The Economist Consulting Editor John Andrews, Senior Business Development Manager at The Economist Events Chris Munz
HSBC Malta's 'Malta Trade for Growth' initiative and the €50 million Trade Fund launched in December will be one of the topics discussed during the first ever Business Roundtable with Government, organised by The Economist with support from HSBC Malta.
The 'Invigorating Investment and Growth' conference will bring together many of the world's foremost leaders to discuss prospects for the world economy and Malta's investment opportunities within the EU and the Mediterranean Region. Speakers include President of the European Parliament Martin Schulz, former Italian Prime Minister Mario Monti, former EU Commissioner Lord Peter Mandelson and the Secretary General of the League of Arab States Nabil El Araby and Malta's Prime Minister Joseph Muscat.
HSBC Malta will have an extensive presence at the summit, including a stand that will provide insight into the bank's support for international trade and offer unique opportunities to network with distinguished summit guests.
HSBC guest speakers include: HSBC Co-Head of Commercial Banking Europe Tim Reid, who will be in Malta to discuss 'The Future of Europe and the Mediterranean Region', HSBC Malta's CEO Mark Watkinson, who will talk on 'Investing in Malta'; and HSBC Malta Head of Commercial Banking Michel Cordina who will participate in a panel on Maritime and Transport Opportunities, Risks and Challenges for the next decade.
"This first-class summit will explore ways to invigorate investment and growth in Malta. As such, HSBC Malta's support fits perfectly in line with the bank's other initiatives to promote international trade and business growth, foremost of which is the Malta Trade for Growth initiative and the accompanying MTFG €50 million Fund, launched late last year," said Mark Watkinson, CEO of HSBC Bank Malta plc.
"The €50 million fund helps Maltese businesses flourish by increasing international trade with growing and emerging markets and, equally importantly, encouraging international investment in Malta. International trade is expected to bring the most significant growth to Maltese companies and the Malta Trade for Growth Fund is our platform to connect Maltese customers to global opportunities, to help customers grow their business and, in turn, further the prosperity of Malta's economy," said Michel Cordina, Head of Commercial Banking HSBC Malta.
In order to promote Malta, HSBC has recently produced a Why Malta? video explaining the benefits of Doing Business in Malta. This is viewable on https://www.hsbc.com.mt/1/2/mt/en/business/latest-promotions/why-malta-dvd
"With Commercial Banking offices in 60 markets, and more than 7,000 relationship managers operating worldwide, we are in a unique position to connect customers to new markets, provide local insight through people on the ground, and offer the financial support to help businesses expand globally," Mr Cordina added.
More information about the event, including the programme and a full list of speakers, is available online at http://inbusinessmalta.com