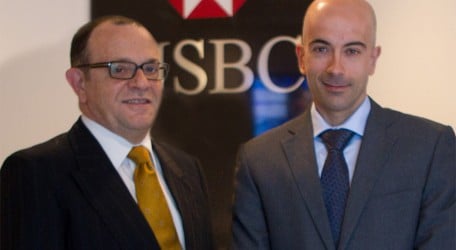 Pictured above: HSBC Malta's Gaetano Sammut (left) and Vincent Borg were among the international delegates at HSBC's latest European Global Trade and Receivables Finance Conference
HSBC's recent European Global Trade and Receivables Finance Conference, held in the UK, brought Global and European Heads of HSBC together, including HSBC Malta's Head of Trade and Receivables Finance Mr Gaetano Sammut and Senior Manager Receivables Finance Mr Vincent Borg.
HSBC Malta's participation strengthened the bank's trade relations in Western Europe while forming new connections in European emerging markets, such as those of Russia, Poland, Turkey, Czech Rep, Kazakhstan, Israel and Armenia, amongst others.
Mr Gaetano Sammut said that while the main focus of emerging markets remains the Asian giants, the 'East on our doorstep' should not be overlooked. "The volume of business in fast emerging Eastern Europe is booming.  Opportunities are being created and these should be explored. We have built up networking channels to help our customers benefit from this potential," he said.
Mr Vincent Borg said: "This was another invaluable opportunity to strengthen the network that connects our Maltese business customers with new and exciting opportunities in Eastern Europe. These new trade flows and corridors present exciting new opportunities for increasing Malta's global connectivity and competitiveness."