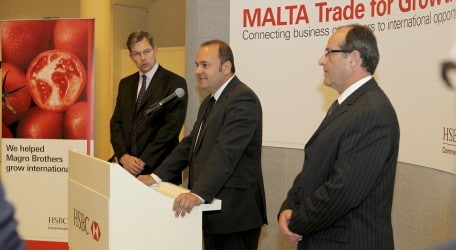 Pictured above Minister for the Economy, Investment and Small Business, Dr Chris Cardona, speaking at the launch of HSBC's 'Malta Trade for Growth', together with (from left) HSBC Malta's CEO Mark Watkinson and Head of Commercial Banking Michel Cordina
HSBC will provide a wide range of incentives and resources to make it easier for Maltese companies to do business overseas
HSBC Malta has become the first bank in Malta to launch a strategic initiative specifically designed to help local companies bolster their international trade, particularly with emerging markets. HSBC's 'Malta Trade for Growth' encompasses all initiatives related to international connectivity and is aimed at local customers with global aspirations as well as international companies wishing to take advantage of Malta's strategic location. HSBC will be offering a wide range of incentives, discounts and resources that will make it easier and more cost effective for companies to do more business overseas.
HSBC's 'Malta Trade for Growth' was launched today at the MaltaMaritimeMuseum by the Bank's CEO Mark Watkinson and Michel Cordina, Head of Commercial Banking, in the presence of Dr Chris Cardona, Minister for the Economy, Investment and Small Business.
One of HSBC's objectives is to open new trade corridors for Maltese companies via its global connectivity. HSBC Malta can provide access to an extensive list of solutions to assist international trade, such as Structured Trade Finance, Internet Trade Services, Receivables Finance, Renminbi direct trade settlements, Payments and Cash Management Solutions, and Foreign Exchange."
The pace of economic expansion in regions like Asia and Latin America is changing the world and Maltese businesses need to be part of this new economic land scape. This initiative is designed to drive international trade, which will be vital to Malta's future economic growth," said Mr Watkinson.
"'Malta Trade for Growth' brings together the full range of global benefits that HSBC is able to deliver to its customers. It highlights HSBC's continued commitment to supporting growing businesses, and also forms part of the bank's strategy to be the world's leading international bank," he said.
Through 'Malta Trade for Growth', HSBC is offering a number of incentives such as the waiving of the fee related to the first documentary letter of credit for those customers that are new to HSBC Malta's Trade Finance. In addition, a 20% discount will be provided on the opening and advising fees on documentary letters of credit to or from emerging markets. Other incentives relate to the waiving of the administration fee for finance against trade export or import facilities for trade with emerging markets, as well as discounts on Receivables Finance and preferential rates on Foreign Exchange, including currencies such as the Chinese Renminbi.
'Malta Trade for Growth' will also allow customers to access HSBC's unrivalled global reach and expertise in international trade. With trade teams on the ground in 60 countries and 7,000 commercial banking relationship managers, HSBC is well positioned to connect customers to international opportunities. Customers in Malta will be able to benefit from relationship managers with a deep understanding of international business.
 "HSBC is best placed to connect Maltese businesses to other counterparts across the world. So if a company is looking to trade across borders by expanding overseas or wishes to engage with emerging markets to reach its global aspirations, they should talk to us first as we have the expertise and resources to help," said Michel Cordina, Head of HSBC Malta's Commercial Banking.
"The basis for this growth in the coming years shall be that of improving the competitiveness of the Maltese economy by encouraging local businesses to think global and to internationalize their business through the development of joint ventures and strategic alliances with international partners.On behalf of the Maltese Government I would like to thank HSBC for introducing the 'Malta Trade for Growth' initiative and for bringing forward its international network to facilitate and assist Maltese companies to tap international markets," said Minister for the Economy, Investment and Small Business, Dr Chris Cardona.
'Malta Trade for Growth' will be supported by an extensive advertising campaign featuring the stories of Maltese companies that have successfully expanded overseas.
Businesses can find out more about 'Malta Trade for Growth' by visiting the Bank's website at www.hsbc.com.mt/commercialbanking. They can also access HSBC's 'Global Connections' site, which provides customers with all the information they need to grow their business internationally. Business customers can also access trade forecasts reports issued on a regular basis by HSBC to help them explore the future of world trade and identify key opportunities across markets and sectors.
In addition, customers can access more than 20 Country Guides that provide relevant information on doing business with the most important developed and emerging markets around the world.