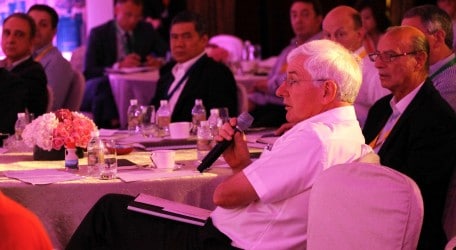 Pictured above: Mizzi Organisation President Chev. Maurice Mizzi (first person from right) with business delegates at HSBC's International Exchange in Shanghai, China
The huge potential of China's vast market was reaffirmed during HSBC's latest International Exchange in Shanghai, which drew HSBC customers from all corners of the world, including The Mizzi Organisation – an HSBC Malta business client.
"The recent record rates of growth enjoyed by China have been spectacular by any standard, but faced with continuing economic uncertainty in the US and Eurozone area, the country has had to adjust in the face of slowing global demand, explained HSBC's Chief Economist for Greater China, Qu Hongbin. "While the short-term picture looks less record-breaking, we are not watching China's growth story come to an end."
HSBC China's Head of Commercial Banking, Montgomery Ho, echoed this analysis, saying that China's growth is set to continue for at least the next two decades. "Due to the uncertainty in the US and Eurozone area, in the near future, I am expecting that China will be concentrating its efforts on exports and business interaction with Europe which has been on China's back burner for some time.  Therefore, HSBC's international exchange in Shanghai was doubly important."
During the visit I managed a meeting with MG, the Chinese car company, where we established a relationship which will be followed up within the next few months. I am also in contact with two of the participants – exporters of pharmaceutical manufacturers who are interested in exporting to Malta. An interesting factor of this exchange is the fact that most guests were more or less of the same stature, employing between 600 and 1500 people." said Mizzi Organisation's President, Chev. Maurice Mizzi.
"HSBC offers the global connections, products and services for businesses in Malta to succeed and grow in international markets. International Exchanges are one of the many ways our clients benefit from HSBC's global reach and international connections," said HSBC Malta's Head of Commercial Banking Michel Cordina.
HSBC International Exchange events are organised in key areas of the world to connect businesses, enhance communication, and create global opportunities for trade and business growth. Prior to this event in China, another International Exchange was held in Brazil and another two are being organised in Dubai and India later this year.
More information about HSBC's commercial activities, products, and services is available on HSBC Malta's website at www.hsbc.com.mt/commercialbanking or by visiting any HSBC branch in Malta and Gozo.