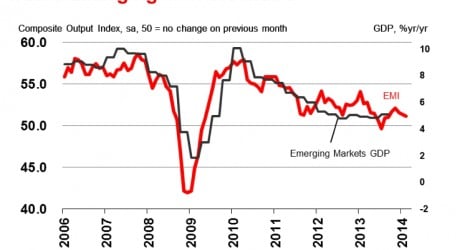 Emerging market growth slows further
The HSBC Emerging Markets Index (EMI), a monthly indicator derived from the PMI™ surveys, fell for the third month running to 51.1 in February, from 51.4 in the first month of 2014. That signalled the weakest growth in global emerging market output since last September, with the EMI also remaining well below its long-run trend level of 54.0.
The moderation in growth in the latest period reflected the weakest rise in manufacturing output in five months, in contrast to January when the slowdown reflected weaker expansion in the service sector. Services activity in emerging markets rose at a slightly stronger rate in February, albeit one that remained relatively weak.
Manufacturing output in emerging markets was weighed down by contractions in China, Russia and South Korea. Growth slowed in Mexico and remained weak in Brazil. In contrast, Poland and the CzechRepublic posted sharp increases, as did Taiwan.
Conditions are likely to remain subdued in March, with incoming new business rising at the slowest rate in five months. Reflecting this lack of pressure on capacity, employment was broadly unchanged over the month and backlogs of work declined further. Finally, inflationary pressures remained weak overall, despite evidence of cost pressures in Brazil, Russia, Turkey and the CzechRepublic linked to exchange rates.
Business expectations
The HSBC Emerging Markets Future Output Index is a new series tracking firms' expectations for activity in 12 months' time. The index picked up in February to an 11-month high, reflecting improved sentiment in both manufacturing and services. The goods-producing sector retained the more optimistic outlook overall.
Among the largest emerging markets, China posted the strongest sentiment in 11 months (manufacturing and services combined). Brazil posted the strongest overall output expectations, as it has eight times in the past nine months. Russia held the least positive expectations in February, followed by India.

Murat Ulgen
HSBC Chief Economist, CEE & Sub-Saharan Africa
"Emerging economies are struggling to gain traction. The HSBC Emerging Markets Index (EMI) lost ground for the third straight month, slipping to 51.1 in February. This time the weakness came from manufacturing, while services recorded a slight improvement. Details suggest manufacturing weakness in China and Russia continued to weigh on overall business conditions. Central & Eastern Europe remained strong.
"Looking ahead, there is little hope for a quick turnaround as new order growth lost further momentum. That said, expectations for future activity in 12 months' time are improving which is evident in healthy gains in future output index, for both manufacturing and services.
"Emerging markets have been buffeted by a myriad of challenges for some time now. Tighter global financial conditions were already forcing many towards a rather unpleasant balance of payments adjustment via weaker currencies, higher interest rates, retrenchment in domestic demand or all of the above. The alternative and a more credible way of re-balancing via structural reforms in order to restore lost competitiveness is hard to pursue with a loaded election calendar looming, which is also valid for more active fiscal policy as a tool to shed past excesses. Moreover, there remain question marks when it comes to China; ranging from effectiveness of credit growth, transformation towards a consumption-led economy, liberalisation of capital account and dealing with the shadow banking system. Finally, the Ukraine and Russia standoff could undermine Europe's fledgling recovery, and in turn the global trade cycle. In sum, business is far from as usual for emerging markets and this is unlikely to change anytime soon in a meaningful way."
Pablo Goldberg
Global Head of Emerging Markets Research
"EM data disappoint again, led by China. The silver lining is stocks have fallen compared to new orders, so a pickup is possible."
Regional highlights: www.twitter.com/HSBC_EMI_PMI
Frederic Neumann
Co-Head of Asian Economic Research
"Export orders still weak, hinting at Asia's loss of competitiveness. The good news: firms are more optimistic about growth ahead."
Andre Loes
HSBC Chief Economist, LATAM
"Weak expansion persists. Modest Brazil improvement tempered by deceleration in Mexico manufacturing, reflecting slow US start."
Murat Ulgen
HSBC Chief Economist, CEE & Sub-Saharan Africa
"Recent geopolitical tension surrounding Ukraine and Russia may disrupt what has been a bright outlook in CEE since mid-2013."
Simon Williams
HSBC Chief Economist, MENA
"Gulf oil producers still outpacing the rest of EM; recovery for troubled N Africa remains elusive."
Manufacturing
Chinese manufacturers signalled reductions of both output and new business in February, leading to a moderate deterioration of overall operating conditions. As a result, firms cut their staffing levels again in February and at the quickest pace in nearly five years. Meanwhile, input costs and output charges both declined at their fastest rates in eight months.
Taiwanese manufacturers signalled a further improvement of business conditions during February. However, the rate of growth eased to a three-month low, dampened by weaker expansions of output and new orders. Meanwhile, South Korean manufacturing production declined fractionally on sluggish domestic new orders. However, new export orders increased for the fifth consecutive month linked to demand from China, the Middle East and America.
Manufacturing growth in Indonesia waned on the back of recent floods and the eruption of the Mount Kelud volcano. Production rose only fractionally as new order growth weakened. Meanwhile, the recent run of improvement in Vietnamese manufacturing continued with further rises in output, new orders and employment.
Production growth in India accelerated on the back of a stronger rise in incoming new work. The pace of output expansion was the quickest for a year. New orders increased at the fastest rate since February 2013.
Brazilian manufacturing output increased only marginally in February, and new order growth also slowed. New export orders fell amid evidence of competitive pressures and limited pricing power. Concurrently, manufacturing output growth also moderated in Mexico, with a slight drop in new export work contributing to a deceleration in the overall rate of new business expansion for the first time since September 2013.
Turkish manufacturers faced an improving business climate in February. New orders, output, exports and purchasing all expanded at sharper rates, while the latest survey results also highlighted ongoing marked inflationary pressure on both input and output prices, linked to the weakening lira exchange rate.
The current period of contraction in Russia's goods-producing sector was extended to a fourth month in February. The overall rate of deterioration eased since January on the back of slower falls in output and employment, but new orders declined at the fastest rate since May 2009.
Poland's manufacturing expansion moved up a gear in February. New orders posted the fastest increase since April 2004, and the second-sharpest growth in the survey history. This generated the strongest growth in output in over three years. Meanwhile the Czech manufacturing sector continued its bright start to 2014 as growth of output, new orders, exports and purchasing all accelerated further. Notably, the rise in new export business was the second-fastest in the history of the survey. Inflationary pressure on input prices remained strong, linked to the weakening koruna exchange rate.
Middle East & Africa
February PMI data indicated the continued expansion of Saudi Arabia's non-oil private sector economy with output, new orders, and employment all continuing to rise, albeit at slower rates. Meanwhile, in the United Arab Emirates there were solid expansions in output and new orders at non-oil private sector companies. New export business rose at the quickest pace in the series history and input costs increased at the slowest pace for six months.
Survey data signalled renewed expansions in output and new orders at Egyptian non-oil producing private sector firms in February, after declines were reported in January. But new export business fell for the first time in four months, linked to unusually bad weather in export markets and shipping problems.
Private sector output growth in South Africa hit a ten-month high in February, but remained modest overall. New business increased at the fastest rate since November 2012, and new export orders rose for the first time in three months. Notably, average input prices and charges both increased at the fastest rates in the 32-month survey history.
Business Expectations
The overall improvement in manufacturing output expectations in February was reflected across most of the economies surveyed. The only economies to post lower Future Output Index readings than in January were India, South Korea and Poland. That said, manufacturing sentiment remained relatively strong in the latter two countries.
Business expectations in the non-oil private sectors of Saudi Arabia and the United Arab Emirates improved in February. That said, the strength of sentiment remained below-trend in both economies. Output expectations moderated since January in Egypt, but the respective Future Output Index was nonetheless at the second-highest level to date.