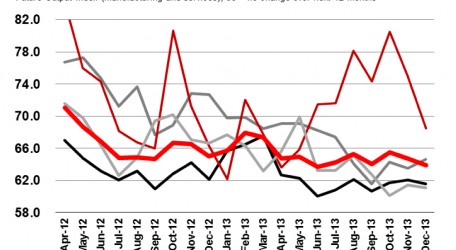 Emerging market growth checked at year end
The HSBC Emerging Markets Index (EMI), a monthly indicator derived from the PMI™ surveys, signalled overall growth of output across global emerging markets in December. But the EMI fell to 51.6, from 52.1 in November, signalling a weaker rate of expansion.
Manufacturing output continued to rise at a faster pace than services activity, and the rate of growth was only fractionally weaker than November"s eight-month high. Meanwhile, service sector output rose at the slowest rate in three months.
Goods output growth was broad-based across the economies covered at the end of 2013, with the strongest expansions indicated in Taiwan, the Czech Republic and Turkey. Chinese manufacturing output growth eased from November"s eight-month high.
New business inflows in global emerging markets rose for the fifth month running, albeit at the weakest rate since September. Backlogs continued to expand marginally, in line with the broad trend shown throughout the fourth quarter.
Inflationary pressures in emerging markets remained muted in the final month of 2013, with average input prices rising at the slowest pace since July. This led to the weakest increase in output prices in the current five-month sequence of inflation.
The HSBC Emerging Markets Future Output Index is a new series tracking firms" expectations for activity in 12 months" time. The index fell to a six-month low in December, reflecting weaker sentiment in both manufacturing and services. That said, the index"s average in Q4 was higher than those in the previous two quarters.
Among the largest emerging markets, Brazil continued to post the strongest sentiment regarding anticipated output growth in 2014, but the extent of optimism continued to ease sharply from October"s peak. Russian firms remained less optimistic, on average, than their counterparts in China and India.