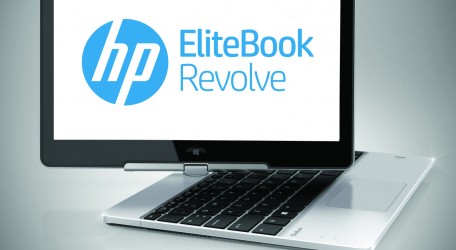 HP extends its business tablet portfolio with the announcement of its next-generation convertible tablet, the HP EliteBook Revolve—a touch-enabled notebook that pivots to let users share their work and folds to go mobile as a tablet.
With the ability to transform with the flick of the wrist to deliver a convertible computing solution to match any need, the HP EliteBook Revolve is designed for business and government customers who require both an ultrathin notebook and a touch-enabled tablet. Driven by the latest, third-generation Intel® Core™ processors and optimised for Windows® 8, the HP EliteBook Revolve offers the incredible performance and visuals of a full-power notebook alongside the flexibility to quickly switch to a tablet with a touch- enabled high-definition (HD) display.
HP also released a new HP Multi-Tablet Charging Module which quickly and easily charges and stores up to 10 tablet PCs with just one power outlet.
"Employees want computing devices that work the way they do—flexibly and able to adapt to any situation," said Gerwald van der Gijp, director, commercial products, Personal Computer Business Unit, HP EMEA.
An HP EliteBook that bends over backwards to get more done
With a touch-enabled display that pivots to let users share their work or revolves and folds to go ultra-mobile as a tablet, the HP EliteBook Revolve is designed for busy enterprise environments.
Work anywhere with easy deployment, management and security
As with all HP EliteBooks, the HP Revolve is packed with all the tools IT needs to securely deploy and manage a fleet across an enterprise, including:
Enterprise IT tools such as Active Directory, domain join, PXE boot support and a range of HP Client Management solutions, allowing for secure deployment and effective fleet management.
HP Client Security to provide protection at every layer, including HP BIOS Protection and Microsoft Defender or Microsoft Security Essentials; an embedded, certified TPM security chip for data encryption; and four years of HP Absolute Data Protect to help further protect the device, data and user identity.
HP Global Series and HP Custom Integration Services for simple deployment across a global enterprise with consistent global configurations and customisation options such as corporate image loading.
Print directly to any ePrint-capable HP printer or to a networked HP printer without the need for downloading drivers.
In October, HP introduced its first enterprise-class tablet, the HP ElitePad, which was designed from the ground up to better meet the varied needs of enterprise customers. The HP ElitePad launch also included a unique, productivity-enhancing ecosystem of HP ElitePad Smart Jackets and additional accessories.