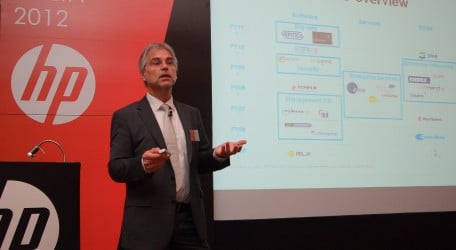 Pictured above: Herbert Rastbichler, Vice-President and Managing Director for HP CEE 
HP recently held a conference on HP Solutions highlighting the latest solutions in the so-called Converged Systems, virtualization, cloud systems, and IT infrastructure made up of servers and storage and networking systems.
HP's business partners, decision-makers and IT professionals from various business sectors in Malta, including telecoms, financial institutions, gaming companies, ministries and government entities, attended the conference.  Supported by Intel® Xeon® processors, the conference helped customers learn more about the infrastructural choices and technologies and to make these technologies easier to manage and deploy.
Herbert Rastbichler, Vice-President and Managing Director for HP Central Eastern Europe, outlined HP's strategy and future outlook.
Franz Scherz, Managing Director for HP CDG, addressed the changing trends in information technology and the company's approach to leveraging information.
The speed of business today is unrelenting. Everyone expects immediate results. HP's converged infrastructure helps to accelerate IT for better business results while it also accelerates the value of virtualization. HP's Converged Systems and Converged Infrastructure were explained in detail by Beatrix Mueller-Meszarich, Manager of the Server, Storage and Networking unit in the CDG region.
Microsoft Malta Country Manager Adrianna Zammit addressed Microsoft's alliance with HP.
A case study was presented by one of HP's clients, Jesmond Baldacchino, ICT/IS Manager, Malta Freeport Terminals Ltd.
Other senior HP speakers included Support Solution Architect Jelena Bratic, Server, Storage & Networking Presales Consultant Dejan Stanic, Network Sales Specialist Igor Kermetciev, and Imaging and Printing Partner Business Manager Mirza Cordalija.
The presentations clearly illustrated how, in various segments and in a constantly changing world, one can count on HP to understand the local business needs and to deliver the right solutions for various organizations. Informative collateral and documents with solutions focusing on the presented topics were distributed during the event and discussed with those who requested additional information.
More information about HP products and solutions is available on www.hp.com/mt