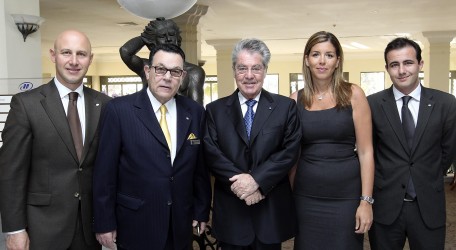 Pictured above: Fabien Vella (Director of Sales), Clement Hassid (General Manager), Heinz Fischer (President of Austria), Alexia Sultana (Corporate Sales Manager), Nicholas Calleja (Conference & Events Executive)
Hilton Malta was proud to host the President of Austria, Heinz Fischer when he visited the island last month. This was the first time that an Austrian head of state had ever come to Malta and Dr Fischer was accompanied by an Austrian trade delegation that was also welcomed at the Hilton.
Additionally, the Hilton Malta's Conference Centre housed the main trade meetings that were conducted as part of the Maltese/Austrian business forum which was aimed at enhancing trade links between the two countries. During these meetings it was established that Malta and Austria could be highly beneficial to one another.
No stranger to hosting heads of state, celebrities, and other VIPs, the Hilton Malta's guest list of some of the world's most illustrious personalities is in perfect harmony with the Hilton brand's dedication and drive towards providing the finest luxury hospitality on a global level