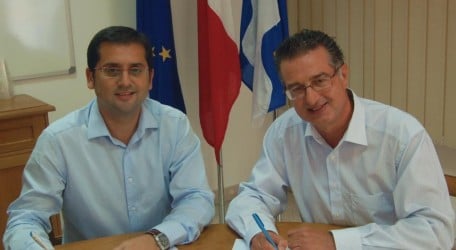 Pictured above:  Gżira Mayor Roberto Cristiano, and GreenPak Coop CEO, Ing Mario Schembri, launching the waste recycling partnership agreement
 Eurostat figures show that Malta is only recycling 7% while the EU average is 25%. The EU average for waste directed to landfills is 38%; in Malta this is 86%. In this context, between 2006 and 2010, GreenPak Coop Society has diverted millions of kilos of packaging waste away from landfills and towards recycling.
During the last 18 months alone, over 12 million kilos of packaging waste were collected and recycled by GreenPak. Apart from contributing in terms of moving towards the required EU recycling targets for Malta, this also means fewer expenses for Local Councils as these avoid paying higher fees for landfill use.
In the latest developments, the Gżira Local Council has joined the GreenPak waste recycling scheme in an effort to further improve its recycling rates. Gżira residents are being visited by GreenPak recycling advisors explaining the new initiative while distributing free GreenPak recycling bags. This agreement will facilitate to highlight the importance of waste separation and recycling, in addition to boosting the 'Recycling on Tuesdays' scheme.
Ing Mario Schembri, CEO of GreenPak Coop, said: "The new contract signed with Gżira Local Council is another milestone achieved by GreenPak in its aim to help Malta achieve sustainable recycling targets. Furthermore, the positive response to the kerbside collection of glass initatiated in Attard, Fgura, Żurrieq, and the recently introduced facility in Gżira, encourages us to gradually expand the glass collection in other localities within GreenPak's scheme."
Since its inception in 2006, GreenPak has been diverting its efforts at grassroots level, with GreenPak advisors visiting over 60,000 households, spread across 32 localities in Malta and Gozo. The door to door campaigns help residents understand the importance and benefits derived from waste separation and recycling, while responding to any queries, and handing out informative leaflets.
GreenPak regularly sets up informative stands during various activities organised by local councils.  GreenPak endeavours to instil recycling practices within the younger generation. This is reflected in the numerous school campaigns carried out during the scholastic year.
"Continuous education and awareness about recycling of waste are the way forward in obtaining the required recycling levels set by the EU. GreenPak strives to make it easier, more practical and rewarding for the residents and business community to separate their waste," added Ing Schembri.
As a token of appreciation for the public's commitment towards recycling more, GreenPak has an ongoing campaign named Reward-Reuse-Recycle (3R). Unsuspecting residents who have disposed of their separated waste through GreenPak's recycling scheme are being rewarded with a green-cloth goodie bag, adeptly named the 3R Bag.
GreenPak frequently engages in opportunities within the trade sector to further increase recycling awareness by joining up with a wide range of companies.
 GreenPak Coop Society is a MEPA authorised scheme and is backed by PRO Europe, an umbrella organisation of 35 national producer responsibility systems engaged in the selective collection and recycling of packaging waste. It has currently 1,300 business organisations as members of its scheme. These have entrusted their packaging recycling to GreenPak.
For further inquires regarding waste collection schemes, bring-in-sites and other information one can contact GreenPak on tel: 2166 1081 or email [email protected]