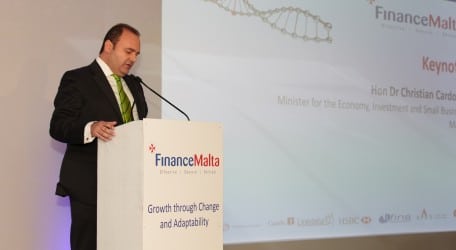 "The Government is committed to sustaining the critical success factors which make Malta such an attractive location for financial services investments", said Minister for the Economy, Investment and Small Business, Dr. Chris Cardona, in his opening speech at the FinanceMalta 7th Annual Conference held recently.
Minister Cardona was one of the 42 speakers featured throughout the annual conference, which has become a staple event in Malta's financial calendar due to its heavy attendance from practitioners and exponents from the EU's flourishing investment community.
During his speech, Dr. Cardona singled out the need for government to assist the private sector by providing more funding to SMEs, a point which was also thoroughly explained by Professor of Banking & Finance at Bangor University in Wales, Phil Molyneux, who introduced a panel session on the topic. Small and medium-sized enterprises constitute 99% of Malta's firms and contribute to circa 89% of the country's GDP, making them a key component to bringing innovative products and services to Malta.
A lively debate between Alfred Sant (PL), Ray Bugeja (PN) and Arnold Cassola (AD), saw the three MEP candidates sound  off on the role of the EU in pushing Malta in the right economic direction. Each of them acknowledged that since its 2004 accession, the country has made leaps of progress in the financial services industry.
"This year's conference has clearly confirmed the joint effort of the public and private sectors in strengthening the Maltese brand as a financial services centre in the Euromed region. By reaching out to leading thinkers and having them share their views, we have put ourselves in a better position to attract more investment to our jurisdiction", said FinanceMalta's Head of Business Development, Mr Bruno L'ecuyer.
Bearing the theme 'Growth through Change and Adaptability', the 7th Annual Conference also highlighted Malta's direction towards triggering more growth through the provision of more equity support, the adoption of the Solvency II Directive, the embracing of technological advancements and the implementation of a risk-based approach to deter money laundering.
A solid proof of growth in the financial services industry are the country's 26 credit institutions which hold €90 billion in assets and the 600+ funds with a net asset value of almost €9 billion cited by Parliamentary Secretary for Competitiveness and Economic Growth, Jose' Herrera, during his closing keynote address.
"The success of this event rides on the unyielding support of each of our sponsors, who have helped us put together our most successful Conference yet. The FinanceMalta team would like to thank everyone for attending", concluded event chair and FinanceMalta Chairman, Kenneth Farrugia.