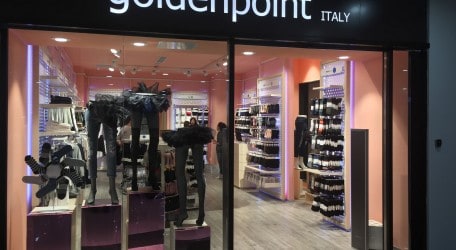 Malta's largest fashion house, the DIZZ Group, has opened two franchise outlets for Italian brands Goldenpoint and Trussardi on Level 1 in Bay Street, St Julian's.
The two outlets that are side by side represent a €300,000 investment by the Group. For Trussardi, this is the second outlet after The Point; for Goldenpoint it is a flagship store and the first of a series of outlets in the DIZZ Group masterplan that are set to open in various localities in the coming months.
In its brief history of just over 15 years, Goldenpoint has achieved huge success with more than 700 outlets in Italy and abroad displaying its comprehensive product range with a focus on elegance, sensuality and passion.
The Spring collection is already in store at highly competitive prices, with new arrivals in the next three weeks including the Intima lingerie collection and – in good time for the summer – beachwear. Also on the way are the Men's and Kids' (boys and girls) collection, which are expected shortly.
"We have lots of offers in Goldenpoint, with regular promotions in store," a DIZZ Group spokesman said.
Goldenpoint's philosophy is that comfort should not be sacrificed for style and that consumers deserve it all. Whether it is choosing from a wide range of socks and tights, leggings, underwear or swimwear, shoppers can be guaranteed that the utmost attention has been placed on the latest innovations.
Dante Trussardi founded the eponymous group in 1911 with a focus on the production and distribution of luxury gloves. In just a few years, its high-quality raw materials and constant refinement of leatherworking techniques made it one of the most prominent firms on the international market for accessories – to the point that it soon became an official purveyor to the British royal family.

From the very beginning, Trussardi was a byword for excellence, discreet sophistication, experimentation and innovation. Dante's grandson Nicola took over the family business in the late Sixties of the last century and turned it into an industrial group, diversifying its product range and entering the sectors of clothing and luxury accessories.
Nicola's vision was to create a brand whose style would embrace every aspect of life, always aiming for the very highest standards. In 1973, Trussardi became the first designer to adopt a logo identifying all its products: the Greyhound.
A symbol of agility and energy, the Greyhound revolutionised the international fashion system, leaving an indelible mark on the tastes of the time with its sophistication, refinement, and maniacal attention to detail, using materials of unparalleled quality.
At Bay Street, the DIZZ Group is displaying the Tru Trussardi spring/summer collection of handbags and accessories. "Tru Trussardi is dedicated to the needs of metropolitan living, focusing on the urban professional environment," the DIZZ spokesman added.
The two new DIZZ Group outlets at Bay Street are open from Monday to Sunday from 10 a.m. to 10 p.m.