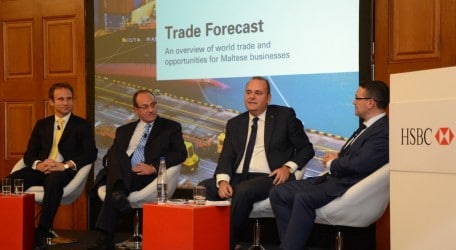 Emerging from a period of stagnation triggered by the global financial crisis, world trade is set to resume its growth trajectory in 2016, presenting fresh opportunities for businesses that have positioned themselves to benefit, a new study from HSBC Commercial Banking shows.
Exporters and importers in cyclical sectors, such as transport equipment and metals, will be the first beneficiaries as the pace of growth in cross-border commerce recovers to 8 per cent in 2016 from just 2.5 per cent last year, according to the HSBC Trade Forecast.
Details of the latest HSBC Trade Forecast were given during a business event held in Malta and which was addressed by Steve Box, Head of Trade and Receivables Finance – Europe, HSBC Bank plc; Michel Cordina, Head of Commercial Banking at HSBC Malta; and James Woodeson, Head of Global Banking and Markets, at HSBC Malta. Dr Chris Cardona, Minister for the Economy, Investment and Small Business spoke during the event.
Looking further out to 2030, the Forecast projects that global merchandise trade will more than triple as astute companies capitalise on increasing productivity and consumer wealth in the emerging markets.
"Businesses can't afford to fixate on the risks posed by today's geopolitical problems and uneven rates of growth at the expense of their future planning," said Simon Cooper, Chief Executive of HSBC Commercial Banking. "Conditions have undoubtedly been tough for trade recently, but we are now turning a corner. The medium and long term prospects look significantly better for businesses that have prepared themselves for recovery in both developed and developing markets."
Increasingly robust economic conditions in the US and the UK, along with a gradual rebound in the Eurozone, will give many international businesses a platform on which to build during 2015. In the short term emerging markets growth looks more vulnerable – while still rapid in relative terms – reflecting a combination of structural challenges and political uncertainties in Eastern Europe and the Middle East.
By 2030, however, China is expected to increase its overseas shipments five-fold as it strengthens commercial ties to emerging Asia, the Middle East and North Africa.
China currently exports 1.4 times more goods than Germany and the US by value, and will widen this gap to almost three times US exports.
India, meanwhile, is likely to be the world's fastest-growing exporter from 2014 to 2030, and has the potential to move from the 14th largest exporter of goods by value to the world's 5th largest. In order to explore this trend in more detail, the Global Connections report places a special focus on India:
Michel Cordina, Head of Commercial Banking at HSBC Malta said: "The latest Trade Forecast shows that worldwide trade is set to accelerate in period of long-term growth. This is a great opportunity for Maltese businesses wanting to grow internationally. We want to be where the growth is, connecting customers to opportunities, enabling Maltese businesses to thrive and the Maltese economy to prosper. The launch in December 2013 of our €50 million Malta Trade for Growth Fund is our investment in Maltese businesses that want to explore business and trade opportunities overseas."
When concluding the event, Dr Chris Cardona, Minister for the Economy, Investment and Small Business said: "I am happy to say that Malta has had a good number of encouraging success stories, all of which show the potential for Maltese companies to develop their own products, innovate, and expand abroad.  Our smallness rather than being a constraint has actually enabled us to specialise and cater for emerging economic niches. On its part, government will continue to enhance its efforts to make our business environment more conducive to investment and growth."
The Rise and Rise of India's Global Trade
New Prime Minister Narendra Modi recently outlined a roadmap of structural reforms for India's economy in his first budget announcement; reforms we expect will help the country boost its goods exports more than five-fold by 2030, at an average rate of 11 per cent a year.
India's exports are currently dominated by goods at the lower end of the value chain, including mineral fuels, textiles and jewellery. Looking ahead, however, HSBC forecasts more capital and skill-intensive sectors like pharmaceuticals1 and automobiles2 will emerge as major contributors to overall exports (please see further information on these sectors in Notes to Editors).
The Forecast predicts that the UAE will become the leading destination for India's exports by 2030. With the UAE's expanding role as a re-exportation hub, this indicates a shift in the shape of future trade. India will also increasingly look east for export opportunities3.
At the same time, India's rapidly expanding consumer classes will present an enticing export opportunity for the rest of the world's producers. By 2030, HSBC predicts that India's imports will increase nearly five-fold. China is expected to capitalise most on the growing Indian market, expanding exports to the country more than nine times over and maintaining its position as the world's leading exporter of goods to India. The US, meanwhile, will edge up from 5th position to 4th place, more than tripling its exports to the country in the same period.
Photocaption: Hon. Chris Cardona (second right) makes a point about Malta's trade growth prospects as (from left) HSBC Malta's James Woodeson, Michel Cordina, and HSBC Europe's Steve Box look on.
Ends
For updates from the HSBC Press Office, follow us on Twitter: www.twitter.com/HSBC_Press.
For a copy of the Global Connections Trade Forecast report and for further information, log onto http://www.globalconnections.hsbc.com/.
An infographic which portrays key findings from the latest Trade Forecast is also available upon request.
HSBC's Trade Forecast encompasses trade data for 25 countries and territories key to world trade.
For further information contact:
HSBC
Consolidated PR
Notes to Editors:
1India's strength lies in the production of generic drugs, which are an affordable alternative to well-known brands for emerging markets. Continued growth requires the right financial incentives and stronger R&D, as so far India's capacity for innovation has been lower than its emerging market counterparts. With the right support, pharmaceuticals will be a fast-growing export sector, forecast to expand by more than 11 per cent a year between now and 2030.
2India has the potential to become an auto export hub in the medium to long term. Transport equipment currently accounts for less than 7 per cent of total goods exports, but leading car companies such as Volkswagen, Ford and Renault-Nissan have invested heavily in India, calculating that the fast-growing market will soon rival China. These companies are also shipping some of their cars abroad, to Europe and the US as well as to other emerging markets, which has helped India develop its expertise in state-of-the-art car production while forging new export partnerships.
3China will move from India's 3rd leading exports destination today to its 2nd by 2030, Singapore and Hong Kong will maintain their rankings in 4th and 5th positions respectively. Meanwhile, Vietnam will rise from 12th to 7th, and Bangladesh will rise from 10th to 8th place.
About the HSBC Trade Forecast – Modelled by Oxford Economics
Oxford Economics has tailored a unique service for HSBC which forecasts bilateral trade for total exports/imports of goods, based on HSBC's own analysis and forecasts of the world economy to generate a full bilateral set of trade flows for total imports and exports of goods, and balances between 180 pairs of countries.
Oxford Economics employs a global modelling framework that ensures full consistency between all economies, in part driven by trade linkages. The forecasts take into account factors such as the rate of demand growth in the destination market and the exporter's competitiveness. Exports, imports and trade balances are identified, with both historical estimates and forecasts for the periods 2014-16, 2017-20 and 2021-30.   Sectors are classified according to the UN's Standard International Trade Classifications (SITC) and grouped into 30 sector headings. More information about the sector modeling can be found on http://www.globalconnections.hsbc.com/
HSBC Trade Confidence Index
The HSBC Trade Confidence Index is conducted by TNS on behalf of HSBC in a total of 23 markets, and is the largest trade confidence survey globally. The current survey comprises six- month views of 5,200 exporters, importers and traders from small and mid-market enterprises on: trade volume, buyer and supplier risks, the need for trade finance, access to trade finance and the impact of foreign exchange on their businesses. The fieldwork for the current wave (11) was conducted between May – July 2014 and gauges sentiment and expectations on trade activity and business growth in the next six months.
HSBC Commercial Banking
For nearly 150 years we have been where the growth is, connecting customers to opportunities. Today, HSBC Commercial Banking serves businesses ranging from small enterprises to large multinationals in almost 60 developed and faster-growing markets around the world. Whether it is working capital, trade finance or payments and cash management solutions, we provide the tools and expertise that businesses need to thrive. With a network covering three quarters of global commerce, we make HSBC the world's leading international trade and business bank. For more information see www.hsbc.com/1/2/business-and-commercial
The HSBC Group
HSBC Holdings plc, the parent company of the HSBC Group, is headquartered in London. The Group serves customers worldwide from over 6,200 offices in 74 countries and territories in, Asia, Europe, North and Latin America, and the Middle East and North Africa. With assets of US$2,754bn at 30 June 2014, HSBC is one of the world's largest banking and financial services organisations.