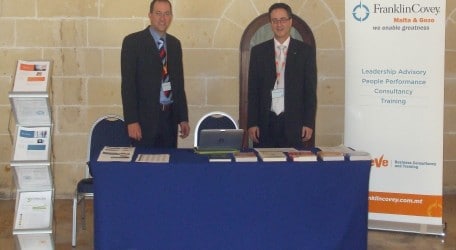 Pictured above: Malcolm J. Naudi and Jimmy Naudi, FranklinCovey's franchise owners in Malta and Gozo
Last week the Mediterranean Conference Centre, Valletta, opened its doors to the annual conference of the Foundation for Human Resource Development (FHRD), where FranklinCovey Malta were present for the second consecutive year.
"This year FranklinCovey Malta not only had a stand but were also given the opportunity to conduct a workshop during the conference," said Malcolm J. Naudi, Director of FranklinCovey Malta Ltd, FranklinCovey's franchise owners in Malta and Gozo. "Participants at the conference visited the stand for information about our company and its programmes or to buy books related to FranklinCovey's intellectual property at special prices."
Jimmy Naudi, a member of the Chartered Institute of Personnel Development and an accredited FranklinCovey facilitator, conducted a workshop on project management with the theme: 'Virtually everyone manages projects – even if it's not in your job title'. With 72 participants in attendance for the one-hour taster workshop, the session gave an overview of a brand new product, Project Management Essentials for the Unofficial Project Manager, which was launched in Malta during the conference.
The new product is designed for employees with little or no previous project management experience or leaders who are struggling with enabling their colleagues and teams to deliver quality projects within the agreed criteria. Participants were introduced to a proven five-step process to complete high-quality projects, big or small, on time and within budget. They also learned four foundational behaviours required to work with a team of people to achieve project success.
"I'm happy that so many people chose my workshop because its means that there is a great deal of interest locally in project management," said Jimmy Naudi, "and I think that, following my presentation, the participants have got a deeper understanding of the issues that need to be addressed."
Conference delegates could benefit from a special-priced one-day workshop in Project Management being held on 23 January, 2014, or get certified in Project Management Essentials by 20 December, 2013, to receive their free virtual certification and facilitator kit. In addition, they were offered a 15% discount on all FranklinCovey books and tools at http://store.franklincoveymalta.com.mt, which is valid until 31 December, 2013.
For more information e-mail [email protected] or visit www.franklincovey.com.mt.