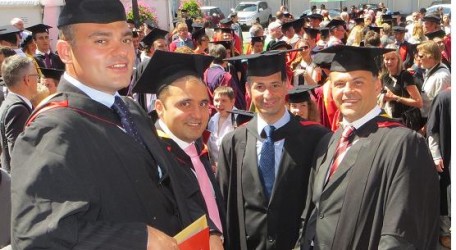 Pictured above: Kenneth Micallef, Wilhelm Attard, Peter Calleya and Simon Grech at the CBMBA graduation ceremony in Bangor, North Wales, UK 
Four committee members of the Institute of Financial Services – Malta (ifs-Malta) have achieved the pioneering distinction of carrying a dual award of a top MBA in Banking and Finance and the coveted 'Chartered Banker' status from the Chartered Banker Institute – the highest professional award available to bankers worldwide.
Known as the Chartered Banker Master of Business Administration (CBMBA), the ground-breaking qualification is awarded by the leading international teaching and research focused Bangor Business School University (UK) in partnership with the Chartered Banker Institute, the world's oldest professional institute of bankers.
The distinction achieved by ifs president Simon Grech, vice presidents Peter Calleya and Kenneth Micallef, and secretary general Wilhelm Attard is a commitment to upholding the highest ethical, professional and technical standards that will benefit the banking profession.
Designed for busy professionals, CBMBA is a world-class qualification that combines everything demanded in the new, post-crisis banking environment. The unique course emphasises professional and vocational development and an understanding and application of those skills required in today's banking and financial services sector.
The Chartered Banker Institute's CEO Simon Thompson said: "I'd like to congratulate Simon, Peter, Kenneth and Wilhelm on their significant achievement in becoming the first CBMBA qualified bankers in Malta, and indeed among the first Chartered Bankers to be qualified globally. They are great examples of the national and international leadership we need the current and next generations of banking leaders to personify. I have no doubt they will play important roles in building the banking profession in Malta, and internationally, in the years to come."
ifs-Malta works to provide an on-going financial education and certified training, whilst constantly responding to the ever-changing realities within the local and international services industry.
More information about CBMBA and ifs-Malta can be found on www.ifsmalta.org