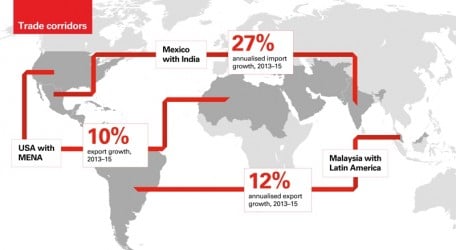 India emerging as the fastest growing trade market in the report
 Bright spots appear for developed markets with faster UK & US trade export growth to China  
After a challenging 2012, the HSBC Trade Forecast is outlining a dual speed trade rebound as South-South corridors become more established, driving growth to 2015 before being rejoined by the developed world in the later part of the decade.  The report shows that internationalisation will then intensify as we enter the next decade (2021-30), as businesses optimise their global supply chains to compete around the world.
By 2020 HSBC expects that forward-thinking companies worldwide will have exploited multiple trade corridors and partnerships, created effective networked supply chains, and tightened efficiency in their operations as a result. This trend continues through 2021-30, contributing to a stabilising of trade growth which also reflects the growing maturity of emerging markets.
'Dual speed' growth
According to the HSBC Trade Forecast, powerhouses India and China will be joined by emerging trading nations including Vietnam, Indonesia, Egypt, Turkey, Mexico and Poland to record significant trade growth in the next three years.  As these economies industrialise, trade in higher value goods will increase, reflecting the greater maturity of these faster-growing economies with large populations and rapidly expanding middle-class consumer markets.
Alan Keir, HSBC Group Managing Director and Global Head, Commercial Banking said: "Despite a difficult 2012, what remains clear is world trade will continue to underpin business growth in both the near and longer term, with trade growth set to outpace GDP growth to 2030. Emerging economies will drive this, with an increasingly important role for smaller countries beginning to register as potential trading nations; ambitious countries brimming with entrepreneurial and confident businesses seeking opportunities to grow. But the forecast also highlights opportunities for companies in the UK and US to capitalise on growth in these emerging markets, with forward-thinking businesses diversifying beyond their developed market counterparts to seek new opportunities."
Michel Cordina, Head of Commercial Banking at HSBC Bank Malta said: "This forecast highlights the increasing importance of international trade for our customers.  Understanding what the future of world trade may look like and helping our customers capitalise on that opportunity is critical.  Our Trade Forecast is a key component in helping us do that.  Through our trade teams on the ground in more than 60 countries and the insight that only HSBC can provide as the world's leading international bank, we are best placed to help Maltese companies connect with other businesses across the world. This allows our customers to take advantage of the opportunities that exists outside our borders.' 
UK & US Export Growth to China Starting to Rise
The developed world begins to regain traction from 2016 onwards, as it gradually redirects trade flows to emerging markets and as the impact of structural reform is felt.  Over that period, the report predicts that the UK and the US will boost export growth to China, as the consumption habits of China's increasingly wealthy middle classes move up the value curve.
| | | | | | |
| --- | --- | --- | --- | --- | --- |
| Origin | Destination | 2013-15 | 2016-20 | 2021-30 | 2031-40 |
| USA | China | 10.4 | 12.0 | 9.7 | 8.2 |
| China | USA | 9.8 | 10.5 | 8.7 | 7.2 |
|   |   |   |   |   |   |
| UK | China | 9.9 | 11.1 | 9.3 | 7.9 |
| China | UK | 10.5 | 9.1 | 8.2 | 7.2 |
Forecast (merchandise) export trade growth (%) annualised
James Emmett, HSBC Global Head of Trade and Receivables Finance added: "The fact that the pace of export growth from the US and UK to China is expected to accelerate reflects the continued – and growing – appetite for the high value, high-end range of goods made in Britain and the US, from FMCG to specialist products in sectors such as technology and pharmaceutical. This shift creates export opportunities for businesses right across the developed world as countries such as China, which were previously known as centres for production and manufacturing, become equally important as a market for Western exports." 
India trade growth a driving force to 2030
The HSBC Trade Forecast highlights India's critical role in world trade growth over the entire period.  India represents the fastest growing import or export partner (or both) between 2013-15 or 2016-2020 for the 23 markets. India's trade growth can be linked to its growing consumer wealth and emerging middle class; investment in infrastructure development; the impact of Foreign Direct Investment (FDI); its diverse range of exports and a move to produce goods higher up the value chain, and its developing role as a supply chain hub for Asia.
Echoing the HSBC Trade Forecast, the latest HSBC Trade Confidence Index (TCI) of exporters reveals greater short term confidence among emerging nations, led by India. Businesses in these markets are exploring new trade corridors, finding new trade partners and new trade networks from which to grow. Businesses in developed countries are – unsurprisingly – less confident about trade prospects.
The TCI also shows that four in five businesses globally (84%) expect trade volumes to remain steady or to grow over the next six months. It is to emerging economies that exporters are turning; China remains the trade partner of choice for a quarter (22%) of survey respondents, followed by Latin America and Southeast Asia – positive news for short term global trade growth.
Key countries and corridors
In addition, the HSBC Trade Forecast highlights that:
Bangladesh is forecast to develop its role linking 'emerging Asia' driven by trade growth with India throughout the period (19% 2013-15, 14% 2016-20). Further afield, building on its European strengths, Poland will become Bangladesh's 8th largest export partner by 2030, from 11th place in 2011.
Mexico's bilateral trade relationship with India is an example of the growing role of emerging markets in the global supply chain and of burgeoning south-south trade. Imports from India are expected to grow by 27% annualised 2013-15, and at 15% a year between 2016-20.
Malaysia is forecast to see strong export growth to Latin America in the years to 2020, at approximately 9% in the period 2016-20, underpinned by a greater sophistication in the products imported by the continent, particularly in electronic goods. Exports to Brazil are predicted to grow 14% annualised over the same period.
Turkey and Egypt are expected to demonstrate dynamic export performance to 2020. Benefitting from a rapidly expanding export base, lower energy costs (short term) and an important 'trade hub' position, both will see export trade growth of over 12% 2013-15. Turkey's trade growth will continue 2016-20 as prospects improve in Europe, and remain at a steady 9% a year between 2021-30.
Vietnam is expected to record double digit annualised trade growth throughout the forecast period 2012-30.
For a copy of the Global Connections Trade Forecast report and for further information, log onto http://www.globalconnections.hsbc.com/.