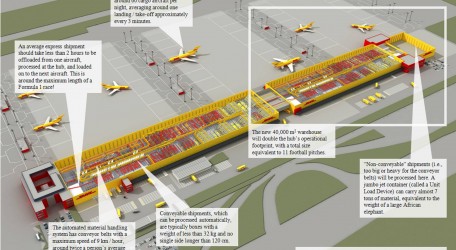 DHL Express, the world's leading international express services provider, yesterday announced that it will double the operational footprint of its main European hub in Leipzig, Germany, to accommodate future shipment volume growth. The company plans to invest €150 million to construct additional warehousing, sorting and office facilities on an area of approximately 44,000 m².
The installation of a new shipment sorting system will increase the processing capacity of the hub by 50%, to more than 150,000 shipments per hour. Work on the new facilities will begin this month, with the new, expanded warehouse expected to be operational from the fourth quarter of 2014.
John Pearson, CEO, DHL Express Europe, said: "Our European Hub in Leipzig is a critical part of our express infrastructure and one of three global hubs that form the backbone of the DHL network. Since we established operations here five years ago, it has been a driver behind DHL's ability to help customers in Germany and other European markets, who are trading internationally, to expand and grow.
"This investment will allow us to support our customers' future growth requirements, while further strengthening both DHL's service capabilities and our economic contribution to Leipzig and the surrounding region."
Robert Viegers, Managing Director, DHL Leipzig Hub GmbH, said: "DHL has delivered on the promises we made when we moved to Leipzig. We now employ over 3,500 people at the hub and our service levels are higher than ever. This investment is a sign of the trust that DHL is placing in Leipzig to support future express shipment growth in Europe.
"At the same time, we are extremely grateful to everyone who has placed their trust in us and helped this hub to grow. The commitment of our workforce, the support of the region and the loyalty of our customers have been the decisive factors in the development of Leipzig Hub."
The expansion will incorporate the building of a new 40,000 m² warehouse, effectively doubling the current footprint, and the installation of a material handling system. It will also add a parking yard for trucks and just under 4,000 m² of office space.
Approximately 400 additional jobs will be created by the expansion. As part of DHL's GoGreen programme, the facility will also incorporate green technologies, reinforcing the company's stated commitment to environmental sustainability in its operations.
The planned investment will bring DHL's total investment in Leipzig Hub to date to over €510 million.