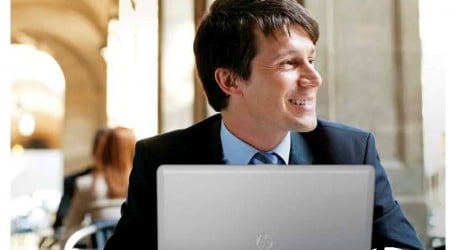 HP provides hardware, software and services that simplify migration and increase performance
European business travellers have become mobile 'just in time' workers, with 93% completing preparation for meetings during their journey according to new research published by HP.
The survey of regular business travellers from nine European countries revealed that 54% spend at least half their journey doing work related to the purpose of travel. British travellers are most likely to work 'just in time', with 67% spending more than half their journey preparing for forthcoming meetings, while only 43% of Germans put themselves under this pressure.
By using technology, 88% of business travellers are able to get ahead and remain productive by catching up on email (31% of the time), researching information (24% of the time) and editing content (22% of the time).
However, their greatest barriers to productivity are lack of connectivity (62%) and being unable to get remote access to normal work tools or applications (51%).
"Mobile working has become a fact of life for executives. Our survey illustrates the new style of IT driven by connectivity and it's creating greater expectations of mobile devices," said Igor Fiolic, PPS Country manager for Croatia and CDG. "This is why HP recently introduced the first tablet specifically designed for business called the ElitePad 900, which offers the same functionality and performance users would expect from their standard notebook combined with battery life that lasts a whole working day rather than just a few hours."
HP's survey also shows that the office is no longer where many workers feel at their most productive. 73% of business travellers see journey time as enabling them to catch-up and improve their productivity. A further 56% say they have their best ideas whilst away from the office.
However, the aspirations of business travellers are beginning to exceed the capabilities of their devices. Despite prolific use of technology, eight out of ten feel restricted:
•           59% find internet connectivity slow or inconsistent;
•           56% say device battery life is too short;
•           51% find the performance of their device too slow;
•           50% say connecting to the internet or their mobile network is too expensive or difficult.
"We've seen business travellers come to expect the same ease of use, design qualities and performance they experience with consumer technology," said Igor Fiolic, PPS Country manager for Croatia and CDG. "They've been bringing more consumer devices into their working lives, but these don't always meet the requirements of the IT department.  The focus of our commercial product innovation is on creating solutions that deliver the best connectivity with the functionality needed for business, while still maintaining the great style of a consumer device."