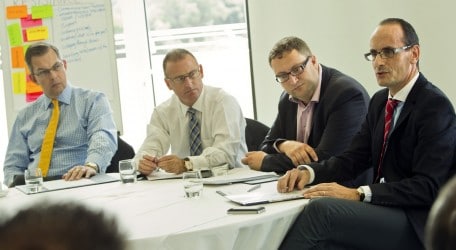 Pictured above: HSBC Bank Malta CEO Mark Watkinson, Island Hotels Group Holdings PLC CEO Winston J. Zahra, Air Malta COO Phillips Saunders, and Simonds Farsons Cisk CFO Charles Xuereb
Business leaders from prominent Maltese businesses recently got together for an inter-company leadership development programme, called 'Crossover', organised by HSBC Bank Malta together with Island Hotels, Farsons Group, Air Malta and Ernst & Young.
The inter-company seminar's panel, formed by Mark Watkinson, the Bank's CEO, Winston J. Zahra, CEO of Island Hotels Group Holdings PLC, Phillips Saunders, COO at Air Malta Company and Charles Xuereb, CFO at Simonds Farsons Cisk, met with the participants at the Radisson Blu Resort, Golden Sands, to discuss and shed light on the large-scale challenges facing businesses in Malta today, as well as to share best practice tips and techniques for addressing change to build on success stories.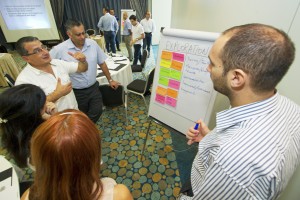 The aim of the development programme was to bring together a number of talented leaders from the different successful companies and market sectors within the local scenario to help participants gain a better understanding of changes taking place in different organisations and their role within the context of a challenging ever-changing work environment.
"Businesses must be quick to adapt in today's fast-paced changing world," said HSBC's CEO Mark Watkinson, who championed this programme. "Consumer behaviour patterns are evolving, and, as business leaders, we must be ready and sensitive to their changing requests. To stay ahead, we must be comfortable with change, flexible to adapt, while keeping an ear to the ground for what is to come in the future."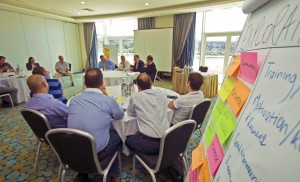 The programme was also aimed at increasing participant's commercial awareness of how other businesses in Malta operate and what makes them so successful in addressing change-related issues. During the programme, participants were provided with the opportunity to network with external professionals, who could help them to better understand the importance of their role within an organisation's rising need to address on-going changes in an increasingly dynamic marketplace.