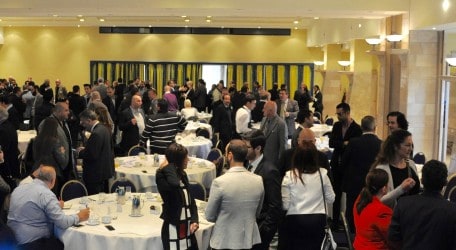 On Tuesday 7 February 2017, representatives from the business community will be joining the 4th Annual Networking Event – Malta to positively impact on the Maltese economic landscape through the celebration of business networking and the role it plays in the growth and success of businesses across Malta
Forming part of the International Networking Week, an initiative of Business Network International taking place on 6-10 February 2017, the Malta Event presents an opportunity for networking to companies, organizations, and individuals to start 2017 by taking proactive steps to strategically use networking to promote business growth.
Many people offer advice about what it takes to be a great networker.  According to BNI founder Dr Ivan Misner, one thing that is left out of that equation is what other people think about what it takes to be a great networker.  This is important because we all need to be cognizant of other people's expectations and adjust our behavior accordingly if we want to make the kind of impression that will work to build a powerful personal network.
Following a 3,400 response survey among business people around the world, Dr Misner identified the top characteristics of what people believe makes a great networker. Being a good listener came first.  Success in networking depends on how well we can listen and learn. "The faster you and your networking partner learn what you need to know about each other, the faster you'll establish a valuable relationship. A good networker has two ears and one mouth and should use them both proportionately.  Listen to people's needs and concerns and find opportunities to help them," said Dr Misner.
Having a positive attitude placed second. A positive attitude makes people want to associate and cooperate with that business professional. "Such persons are like magnets.  Others want to be around them and will send their friends and family to them," explained Dr Misner.
A third important element is helping others by being collaborative. Dr Misner says: "People don't care how much you know until they know how much you care.  Helping people shows that you care."  One survey respondent said that "people want to network with individuals who have a collaborative attitude. Helping others can be done in a variety of ways, from clipping a helpful article and emailing it to someone, to putting them in touch with a person who can help them with a specific challenge.  Several respondents commented about not wanting to network with people who "are in it for themselves". A willingness to collaborate and help others is essential as it builds trust and helps establish a strong relationship.
The Malta Event will be held at The Palace Hotel, Sliema, starting at 7.00 in the morning and finishing at 9.30am. As has happened during previous editions, several participants stay on to do 1-2-1 meetings with other participants they would have met for the first time. It is recommended that one bring along at least 100 business cards. Participation fee is €10. To find out more about BNI and its chapters in Malta, please visit www.BNI.com or contact either Perit Mark Arrigo (mob: 99849090) at [email protected] or Carmel Bonello at [email protected]
Photocaption: Participants at last year's 3rd Annual Networking Event – Malta