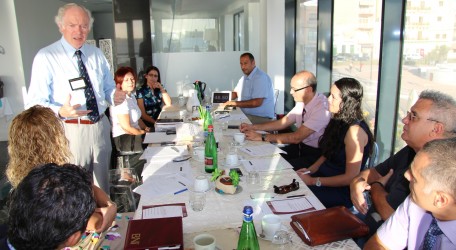 Pictured above:  Malta BNI national director David Bullock  
A new chapter of Business Network International (BNI) has formed in Birżebbuġa. The idea behind BNI is a small group of businessmen and businesswomen, usually around 35 persons, who meet weekly and pass any applicable business to fellow members. Only one member of a particular trade or profession is allowed in each chapter. This is the fifth BNI chapter being set up in Malta in a span of three years and this month saw Malta BNI membership exceeding the 100 mark.
Arthur Turner, managing partner of Turner Group, who is the president of the new chapter said: "BNI is only for those companies or self-employed who want more business, while at the same time prevent their competitors from doing the same. BNI sets up groups of business people with only one representative from each trade or profession in a group. These groups, called chapters, meet once a week for only one purpose: for members to pass business to each other".
The core team of the new chapter includes vice president Anna Fenech from HNS Consultancy Services, secretary/treasurer Daniela Mallia from Innovative Business Solutions, and members Alessia Soffiati from Water's Edge Hotel, Ray Borg from B.A.S. Ltd, Jason Cutajar from Klikk Ltd and Charles Xuereb from Vical Interiors.
The Birżebbuġa chapter is seeking new members who are looking to get more business. Mr Turner said: "We are looking to add a printer, an insurer, a laundry & drycleaning business, a travel agent, a stationery supplier, a web designer, a turnkey contractor, a wines supplier, a photographer, a videographer, a school of English, an architect and a notary, among others, to pass business to on a regular basis."
"Persons operating in these sectors are welcome to attend our chapter meeting as visitors where they will see how BNI provides a structured and supportive business environment in which they network, learn valuable new marketing skills, and develop strong personal relationships that lead to trust. In turn, this leads to the generation of significant business for each other through networking and word of mouth referrals. BNI's business is to help your business do business," explained Mr Turner.
The new BNI chapter meets Tuesday mornings at 6.45am at the Water's Edge Hotel in Birżebbuġa (overlooking the bay near the bus terminus). For more information contact Daniela Mallia on 2165 4567 or email [email protected] or Carmel Bonello on 2124 3211 or email [email protected]
BNI is a present in more than 50 countries with more than 6,200 chapters. Last year, 130,000 BNI members passed over USD6 billion in closed business across the globe.