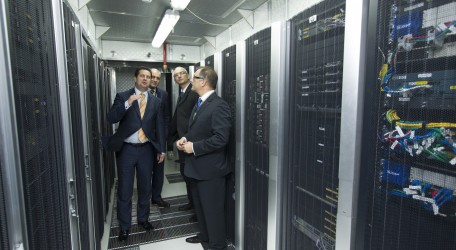 BMIT Ltd, Malta's largest data centre services provider has just made a direct investment of €1,000,000 in additional state of the art data centre capacity, to provide new co-location and hosting facilities as well as to re-inforce its position as the leading provider of data centre and cloud services. The data centre was inaugurated by Dr. Edward Zammit Lewis, Parliamentary Secretary for Competitiveness and Economic Growth, in the presence of Joseph Cuschieri, Executive Chairman of the LGA. The data centre will provide the essential infrastructure to local and international companies, which are increasingly finding BMIT as a reliable and secure provider of data centre, cloud and managed services.
Parliamentary Secretary for Competitiveness and Economic Growth Edward Zammit Lewis welcomed such investment and stated that this is in line with the Government's vision and its digital agenda. "Companies like BMIT are the sort of investment that Government is attracting. BMIT's investment came during a period when another three gaming companies invested in Malta and during the time when the government is updating the gaming regulations," said Honourable Edward Zammit Lewis. In the coming days the nation will also experience the revised Malta's digital strategy. This is the kind of commitment the Government is aiming for this industry in order that it continues creating economic growth and sustainability for this county," Dr Edward Zammit Lewis concluded.
"This investment is part of our growth strategy to maintain the position as the leading, innovative and largest data centre and cloud services provider on the island," said Christian Sammut, Chief Executive Officer at BMIT Ltd. "With this expansion, which is part of a multi-million investment programme over 3 years, we are investing to meet the demand and requirements of an increasing number of new and existing customers in a wide range of industries. Our set-up is already impressive as is. No other facility on the island has a similar size and scale. This latest investment will further stregthen our leading position as the largest and most trusted data centre in Malta."
BMIT has, over these last years, established itself as one of the leading providers of co-location, hosting and managed services to companies in Europe. BMIT was also a finalista for coveted  EGR Datacentre of the Year award for 2013. It offers services to a wide range of customers, including those in the online gaming, financial services, legal and other professional services, ICT providers and retail businesses among others. The company operates from 2 data centre sites in Malta, with full power and multiple communications redundancy, complemented by the highest standard of operation, management and security, befitting a data centre set-up which provides services to a wide range of companies, including many with multi-million turnovers, all dependent on the services which BMIT provides them.
BMIT's data centre facilities offer clients complete peace of mind with regards to their IT requirements, including access to a range of industry-leading hosting, co-location and cloud services. The suite of flexible data centre services can be tailored around the needs and budget of the client, giving them more time and energy to focus on their core business. Added value is provided through BMIT's expert team who will make sure that requirements are addressed and managed to satisfaction.