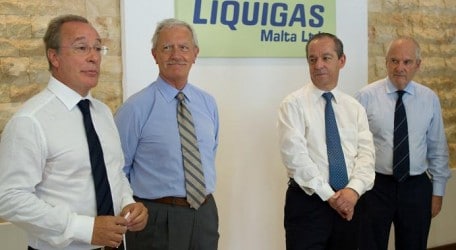 Pictured above: Roberto Capelluto (CEO Liquigas), Paulo del Lago (VP, Liquigas), the Prime Minister and Louis A. Farrugia (Chairman, Gasco Energy)
Prime Minister Lawrence Gonzi has just visited the new liquefied petroleum gas (LPG) sea importation terminal, storage and bottling facility being built by Gasco Energy Ltd at Bengħajsa. The €20 million investment by Gasco Energy Ltd, a joint venture between Multigas Limited and Liquigas Italia S.p.A., will be operational by the end of this month.
Gasco Energy Ltd will, through this investment, be doubling the current capacity for LPG storage in Malta and therefore well able to cater for present and future requirements of the Maltese market.
Once Gasco Energy facility at Bengħajsa is commissioned, the company's total storage capacity will increase from the present 2,300 tons to 4,800 tons.
On his arrival, the Prime Minister, who was accompanied by the Minister for Resources and Rural Affairs George Pullicino, was introduced by Gasco Energy Chairman Louis A Farrugia and CEO Roberto Capelluto, to the Board of Directors representing Maltese and Italian shareholders.
The Prime Minister was shown around the new facility which includes six new LPG storage tanks, each with a capacity of 800 tons of LPG.  Each storage tank is 42 metres long and has a diameter of 7.5metres.   The tanks are covered with sand to increase the safety of the installation.
The project comprises a pipeline from the sea importation terminal to the storage tanks, an automatic cylinder filling facility, a road tanker filling point to deliver bulk LPG to Liquigas' clients, and an administration building.  The facility is also equipped with the latest technology for fire detection and fire fighting.
Prime Minister Lawrence Gonzi said: "This €20 million investment by Gasco Energy embodies my Government's vision and strategy forMalta.  The investment is a result of our privatisation efforts and has created new employment opportunities for Maltese workers both during the construction of the facility and now once it commences operations."
"Government is focusing its efforts on creating the right environment which is conducive to investment and employment creation and the results are proving our strategies and vision for Malta.  This new facility will allowMaltato benefit from new services such as the Auto Liquigas, and air-conditioning using LPG, both contributing to a better environment.  Our economic strategy to allow the private sector to invest in our economy is also an investment in our environment and in our health," said the Prime Minister.
Roberto Capelluto, CEO of Gasco Energy, a sister company of Liquigas Malta Ltd said: "The Bengħajsa facility is being constructed according to the highest international standards to ensure a consistently reliable, safe and environmentally-friendly supply of LPG in Malta. It fully respects the stringent EU criteria as established in the Seveso II Directives."
"The usage of LPG in Malta will increase due to its advantage of being a cleaner and more efficient fuel. Furthermore, at the new Bengħajsa facility, the company will be maximizing the efficiency of gas bottling and storage operations through the application of modern technology and efficient work practices, while ensuring that appropriate quality, environmental and health standards are maintained at all times," said Mr Capelluto.
Following the commissioning of Gasco Energy's Bengħajsa facility, the old Qajjenza plant will be closed down, thus eliminating any risk the Qajjenza plant currently has due to its age and present location.
Gasco Energy Ltd is a joint venture between Multigas Ltd and Liquigas Italia S.p.A.