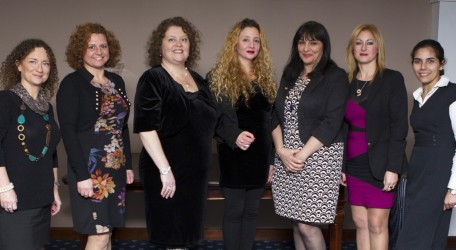 Pictured above: Alexandra Pace – Assistant General Secretary, Miriam Degabriele, Rita Sammut-Buontempo – BOW President, Jenny Barberi – Membership Secretary, outgoing President Pauline Azzopardi, Natalie Meilak – Events Co-ordinator and Sara Ali – General Secretary
Rita Sammut-Buontempo is the new president of Banking on Women. This was announced at BOW's annual general meeting together with other significant BOW council changes. A voluntary female association within HSBC Bank Malta, BOW actively supports women in realising their career ambitions within the bank as well as other life goals.
BoW's mission statement aims to encourage women to seek executive and managerial positions within the bank and develop constructive attitudes towards their careers. It is in regular contact with professionals from the banking world, women's organisations and other groups to offer its members a more informative and enriching experience.
Ms Sammut-Buontempo said: "We shall be taking on new challenges. I look forward to building further upon the experience and friendships that I gained over the last twelve years through my former role as BOW treasurer."
The role of BOW treasurer will be shared between Charlotte Cilia and Nathalie M Camilleri. The other BOW council members are Sara Ali (Gen. Secretary), Alexandra Pace (Ass. General Secretary), Jenny Barberi (Membership Secretary), Stephanie Riolo (Public Relations), while the Events Co-Ordinators are Samantha Hollyoak, Natalie Meilak, and Loredana Mallia.  The other two members of the committee are Doriette Camilleri and Elizabeth Vella.
Thanks went out to HSBC for their longterm support, as well as the following AGM sponsors: Raphael Azzopardi (Iklin), Fiorita (Rabat), Louise Gems, and PartyGoods.