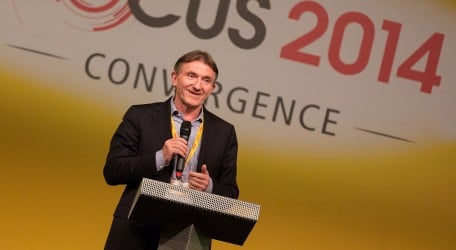 Pictured above: Ken Allen, CEO of DHL Express Global, and (below) John Pearson, CEO of DHL Express Europe, addressing the 2014 European Management Conference in Vienna, Austria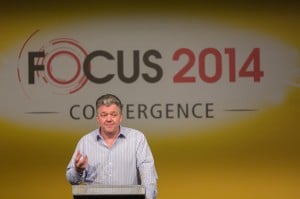 DHL Express executives from 45 European countries discussed the strategic direction the world's leading express and logistics company will take in 2014 when they met last month in Vienna, Austria, for their annual regional management conference.
Not only were the 28 European Union member countries represented, including Malta Country Manager Charles Schiavone, but also countries from south-eastern Europe, Turkey, the Caucasus and Russia.
The European Management Conference, held over six days, included a training programme, Certified International Manager, which executives at all management levels around the world within DHL Express have to attend.
"DHL Express Europe had a very successful 2013 and we want this to continue in 2014," DHL Express Europe CEO John Pearson said at the event in Vienna. "We must carry out our strategy in all countries, not just at the level of CEO but also in all the individual areas, such as sales and customer service.
"In our business of international express delivery, we now want to go from good to great. Only if we work together can we successfully offer transnational solutions for our customers."
Vienna was selected from among several cities in Europe to host the meeting due to its central location, available capacity and its rich cultural history. A dinner in the historic ballroom of the HofburgPalace took place after a visit to the SpanishRidingSchool on the first night.
The highlight of the conference was an exclusive presentation by selected artists of Cirque du Soleil, which signed a global logistics partnership with DHL Express earlier this year. With a world tour that includes more than 150 locations on all continents, logistics is crucial for the success of Cirque du Soleil. A single Big-Top Show may require the loading and transportation of up to 80 containers of cargo.