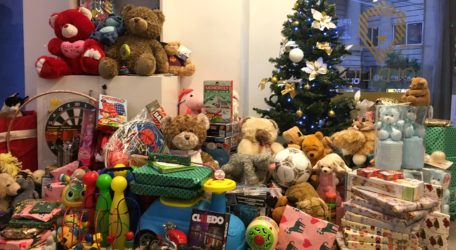 Christmas is one of the most wonderful, magical times of the year; it is the time for giving love and kindness; the time for precious moments; the time for caring about family, neighbours and friends; and, of course, the time for giving gifts to our loved ones.
Unfortunately, there are families and children who need our support during this period, and that's an opportunity for all of us to make them feel happier and have a memorable Christmas.
Gold Lion Holding has for the third successive year started their annual Christmas charity initiative, aiming to inspire people to join in their social efforts and make a positive difference during this festive period. Following the series of charity events that started in 2016, we would like to continue the Christmas initiative to collect gifts and necessary items for children in need and their families.
The Christmas charity campaign, launched on 12 November, will go on until 12 December. Gold Lion Holding has received a lot of support from business partners, clients and other companies, including the ones who participated in last year's Christmas charity initiative.
All Christmas gifts that will be collected up to 12 December will be distributed to children at different charity organisations and the national hospital. If you wish to participate and donate, you can drop off your gifts at the following collection points:
• Gold Lion Holding – 10-12 Bisazza Street, Sliema;
• WDM International – 35, The Penthouse, Salvu Psaila Street, Birkirkara; or
• Deco Manufacturing – Bulebel, Zejtun.
Gold Lion Holding would like to show its appreciation to these collaborating partners: PropertyMarket.com.mt (Daniel Mountford), Take One Design & Print (Gabor Orosz), Malcolm J. Naudi Communications, WDM International and Deco Manufacturing.
Thanks to all these companies and their employees and team members, as well as to Gold Lion Holding's employees for their personal input and efforts, especially CEO Matyas Sziraczki, for his initiative and leadership.
Gold Lion Holding, founded in 2016, is a group of companies offering centralised property solutions in Malta under one roof. Starting from real estate, it expanded its services to construction and property development. All the departments work in sync to reach incredible milestones and provide customers with excellent service by being a one-stop property destination.