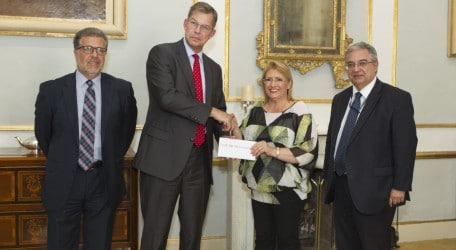 HSBC Malta Foundation reaffirmed its support to the community by making a donation of €7,000 to the Malta Community Chest Fund (MCCF) to assist children needing medical treatment abroad. The President of Malta Marie-Louise Coleiro Preca, Chairperson of MCCF, will be visiting these Maltese children and the families supporting them in the UK later this year.
The cheque was presented by HSBC Malta Foundation CEO Mark Watkinson and HSBC Bank Malta Head of Corporate Sustainability Josef Camilleri (left). Also seen in the picture is Chief of Staff at the Office of the President John Camilleri.
"HSBC firmly believes in community reinvestment. We are pleased to support this worthy initiative from the President," said Mr Watkinson.