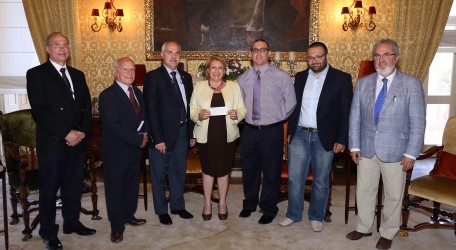 Funds collected during the 2nd DHL Express Plane Pull for l-Istrina, held on 19 March, 2015, were handed over to the President of Malta, H.E. Marie-Louise Coleiro Preca, this week at San Anton Palace, Attard.
A delegation composed of Charles Schiavone, Country Manager of DHL Express Malta, Orlando Bonnici, President of Phoenix Sports Club, and Gordon Buhagiar, President of the Basketball Section of Phoenix Sports Club, made the donation to the newly set up Solidarjetà bl-Isports campaign, which brings together the fund-raising efforts of all the sports associations in Malta and Gozo.
This campaign, formerly known as Sports mill-Qalb, is now in its sixth year. Last year this campaign, originally set up by Oswald Tanti, a volunteer, along with Julie Busuttil, Tessie Bonello and Capt. Jonathan Borg, raised €65,000 for the Malta Community Chest Fund. This year, Emmanuel Peresso has been appointed to chair the campaign's Core Group and has more ambitious targets.
Solidarjetà bl-Isports has been restructured and, under Mr Peresso's leadership, will not only be reaching out to many more sports associations and clubs, but has also appointed 60 Sports Ambassadors to co-ordinate this fund-raising effort.
In return, the new campaign intends to give something back to all those who commit to raise funds for the MCCF, and among these initiatives is a large-scale Sports Expo to encourage new members to join these associations and clubs.
President Coleiro Preca, who made time to visit Safi Aviation Park, where the DHL Express Plane Pull took place in March, thanked all those involved in this initiative, for which over 120 people turned up to pull the plane and beat the clock.
She said the MCCF is currently disbursing over €250,000 per month to assist individuals seeking medical treatment abroad, mainly cancer related. She praised all the members of her team, including many volunteers, who were passionate about all they do. More needs to be done, she observed, to tackle the root cause of these cancers.
"We owe it to our children to address the issue. Children have a right to a non-polluted environment," she said.
Mr Schiavone said: "We are pleased to announce that the sum collected during the second event in which a DHL Express Boeing 757-200 Freighter aircraft was pulled at the Safi Aviation Park repeatedly over a distance of 20 metres was €2,500, an increase over last year. We have established this plane pull as an annual event to raise funds for the MCCF."
Both Mr Schiavone and Mr Bonnici thanked all those involved, including those in the Office of the President, Malta International Airport and the Armed Forces of Malta, plus all the volunteers.