Volunteers, members of the Malta Guide Dogs Foundation board of trustees and their guests attended a blindfold dinner in aid of the foundation last month at the Peristyle Restaurant in Rabat.
For the sighted people who attended, it provided valuable 'hands-on' experience of what those who are partially sighted or blind experience every day as they go about this basic human activity which we all take so much for granted.
There was a choice of two pastas, including Peristyle's renowned ravjul stuffed with rikotta. Where do you start? The blind people present gladly volunteered advice, although there were the expected messy tables and plate surroundings as the blindfolded 'novices' got to grips with the serious business of navigating through their plates.
Raymond Buhagiar from the Marketing and Fund-raising Sub-Committee presented a donation of over €800 from the event.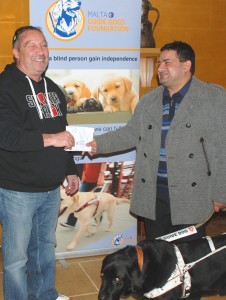 In his address, MGDF chair Leone Sciberras thanked all those involved in organising the successful evening, with a special thank-you going to Peristyle Restaurant, who hosted the event to ensure all funds raised went to the foundation. He said this event would certainly be repeated since it was such a valuable way to show at first hand how blind people go about their daily lives, often in innovative ways.
A series of activities, leading up to National Guide Dog Day, are now being planned. The foundation challenges communities, organisations, government departments, agencies and local clubs to incorporate in their social calendars an opportunity for the MGDF to do a presentation and have a 'blindfold' experience. Can you donate some time as a volunteer, whether it is baking, talking to people or working on a computer? The MGDF needs you. More details soon on the fun day being organised on Sunday, 24 April, 2016, for National Guide Dog Day. Keep the date free.
The Malta Guide Dogs Foundation (www.maltaguidedogs.org.mt) provides its services free of charge to its blind and visually impaired clients. They go through a process of instruction to obtain certification in orientation and mobility, including the use of the white cane, and may go on to also apply for a guide dog, which the foundation also provides free of charge. This is thanks to its major sponsors, notably the Sovereign Military Order of Malta (SMOM) and Borg Cardona & Co Ltd, and other benefactors.