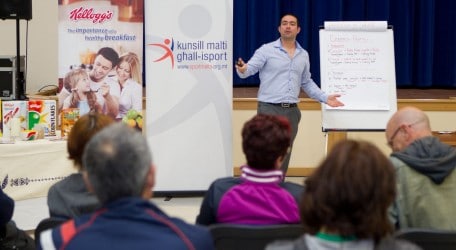 Pictured above: Nutritionist Jeremy Ellul conducting one of the Kellogg's-sponsored talks on nutrition at KMS Skolasport Maria Regina in Mosta
On Saturday 14 April, KMS Skolasport will be holding talks on nutrition and the importance of a healthy breakfast for parents and students at St Benedict Boys Secondary in Kirkop. The one hour talks, being held at 9am and at 10.30am, are sponsored by Kellogg's, the world's leading provider of breakfast cereals, and official sponsor of KMS Skolasport for the past 12 years.
The talks on nutrition are being conducted in Maltese by Jeremy Ellul, state registered nutritionist and physiotherapist. Mr Jeremy Ellul will speak about the benefits of eating a healthy balanced diet. His talks will also focus on how cereals contribute to a Mediterranean type diet, of which grains form an important part, today's culture of eating smaller meals with healthy snacks in between and the importance of portion sizes. He also will point out the nutrition labelling and product information on food packaging.
"There is evidence that having a healthy snack mid morning and in between lunch and dinner helps metabolism.  This can help control hunger and avoid wrong food choices, such as snacking on fatty foods, particularly in the evenings," says Mr Ellul.
The previous four talks held at Maria Regina College in Mosta and at St Ignatius Boys Secondary in Tal-Handaq were attended by adult participants, parents and relatives of children who attend Skolasport sessions in the respective localities.
The attendees had the opportunity to ask questions about a suitable diet for children, a diet for sports and other related health issues. At the end of the talk, Kellogg's cereal portion packs, including Special K, Fruit & Fibre and Coco Pops, were distributed to all attendees.
The one hour talks on Nutrition will be repeated on the 21 April at KMS Tal-Qroqq Sports Complex, and on 28 April at Cottonera Sports Complex, starting at 9am and at 10.30am.
Since the year 2000, Kellogg's has sponsored KMS Skolasport to promote sport and physical activity among the young Maltese generation. Kellogg's and KMS share the same commitment and encourage physical activity from a young age and care for the Maltese community's healthy lifestyle.
"Kellogg's has embarked on this initiative with the aim of helping parents make right and informed choices," said Tony Papadoukakis, Kellogg's Market Development Manager for the Mediterranean. "Due to the rise in obesity and related health issues, increased attention is being focused on a balanced diet and exercise."
The general public and parents who have children attending the sports sessions are encouraged to attend. It is advisable that one registers in advance. Interested persons can reserve a place by calling KMS Skolasport on tel. no 21660658/9, or by sending an e-mail to programmes@sportmalta.org.mt  Kellogg's cereal products will be distributed at the end of each session.