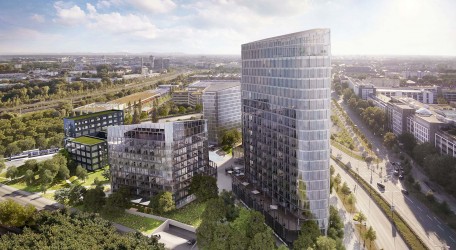 10-year lease agreement signed
High-tech company in fitness & health business to occupy 4 floors in Blue Tower
Developers currently in advanced talks to conclude further leases 
The Valletta-based real estate development, investment and group of hotels, Von der Heyden Group, announced that a major lease agreement has been signed for one of its biggest and most spectacular real estate projects ever, called Bavaria Towers. For this €380 million development situated in Munich and to be completed by end 2018, Bayern Projekt GmbH has now concluded a 10-year office lease agreement with eGym, covering 6.000 sqm of office space. 
After full completion of the four-tower Bavaria Towers project, eGym, a high-tech company in the fitness and health business, will move its headquarters to four floors of the Blue Tower belonging to investor Von der Heyden Group. Through the digitalization of training facilities, eGym contributes to the optimal functioning of gyms for all user groups.
The construction works on Munich's new landmark project are progressing according to schedule. The main construction of the four towers has been finalized and the finishes of the inner parts as well as the technical installations is are in an advanced stage. 
The initiator of the project is Bayern Projekt, which is realizing the project after more than 12 years of preparations together with investors Malta-based Von der Heyden Group and Zurich Insurance Group Germany. The construction started two and a half years ago. Considered as one of the most important real estate developments of Munich in the last decade, the Bavaria Towers will redefine the eastern part of the city.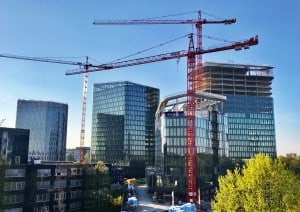 Sven Renz, Managing Director from the real estate developer Bayern Projekt said: 'The Bavaria Towers are one of the most spectacular developments in recent years in Munich, which is the regional capital of Bavaria. As construction is progressing according to schedule, we are simultaneously seeing a strong demand for office space. The conclusion of this major lease with the innovative and successful eGym is perfectly in line with our leasing strategy.' 
Sven von der Heyden, Chairman of the Von der Heyden Group said: 'We welcome eGym to Bavaria Towers. After the successful complete lease-up of the White Tower to H-Hotels, we are now starting to harvest the fruits after a 12-year long journey. Our sincere thanks to all our consultants, and in particular to Bayern Projekt.'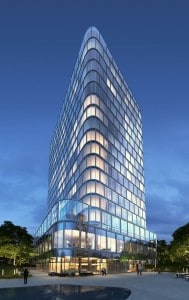 The conclusion of the eGym lease agreement comes on the back of other milestones surrounding the Bavaria Towers mega-project, comprising a total of 62.000 sqm of office space in its three 46 to 84-meter high office towers.  For the White Tower, 15.600 sqm hotel building, the tenant H-Hotels has just announced that it will open Munich's first Hyperion Hotel covering 15 floors. 
The group of tenants at Bavaria Towers will be further expanding. Currently, Bayern Projekt is in advanced talks with various large interested tenants. Markus Turrek, Executive Project Manager at Bayern Projekt, said that in the coming months, further major leases are expected to be announced.