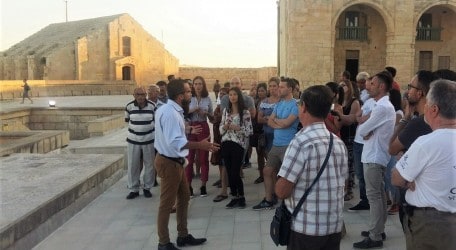 The 14th September marked the 294th anniversary of the laying of the first stone of Fort Manoel in 1723, and to commemorate this historic event, MIDI plc organised a walking tour of the fort by Edward Said, architect and curator of the fort.
The tour provided attendees with an insight into the various restoration techniques, as well as the many challenges faced by the architects tasked by MIDI plc to carry out this major restoration project. Part of this long process has involved the detailed studies of historical records in order to preserve and remain as loyal as possible to the impressive architectural value of the fort. MIDI plc, which has invested over €20 million into this ongoing project, has now commenced works on the restoration of Fort Manoel's north facing bastion walls.
The tour also highlighted several key points of the fort and concluded in the Chapel of St. Anthony of Pauda where a feature film on the restoration works of Fort Manoel was presented, followed by light refreshments.
MIDI plc will be organising further tours and lectures at Fort Manoel in the coming months and encourages the public to follow the Facebook page Fort Manoel Events to keep informed of such activities.