MIDI plc is pleased to announce that its latest waterfront development Q2 has been awarded 'Best Residential Development for Malta' and 'Best Residential Apartment for Malta' at the European Property Awards 2017-18. The awards specifically recognised MIDI's most recent residential phase, comprising 60 waterfront apartments set within a 13-storey building. Each apartment has been designed by Maltese interior designer Martin Xuereb and Associates, and includes stunning panoramic sea views and sizeable terrace.
The independent panel of 70 industry expert judges, chaired by Lord Caithness, Lord Best, The Earl of Liverpool and Lord Thurso, praised MIDI's Tigné Point development for its superior quality, originality, innovative design and commitment to sustainability.
Hosted at the Lancaster Hotel, London, UK, on 26th October 2017, the European Property Awards were open to residential and commercial property professionals from around the globe and celebrate the highest levels of achievement by companies operating in all sectors of the real estate industry.
Tigné Point is the largest real estate regeneration project in Malta, spanning 130,000 square meters. Set on a waterfront headland overlooking the baroque capital Valletta, the development incorporates a wealth of publicly available facilities, making Tigné Point a 'destination' address for local residents and tourists alike.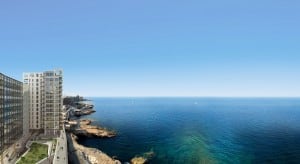 The facilities at Tigné Point include:
• Open spaces and piazzas;
• Cafés and restaurants;
• Sports and leisure amenities;
• A wealth of retail options in the shape of The Point Shopping Mall and Pjazza Tigné;
• High specification residential apartments; and
• A commercial business centre.
Commenting on MIDI's success at the European Property Awards 2017-18, Mark Portelli, CEO, MIDI plc, said:
"We are delighted MIDI's latest development Q2, has been awarded the Best Residential Development for Malta and Best Residential Apartment for Malta awards at the European Property Awards 2017-18. The awards recognise MIDI's significant efforts in making Tigné Point a destination address, which provides a wealth of open spaces and amenities for the whole community to enjoy."