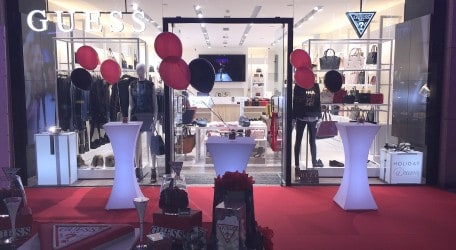 Photo by Brian Grech
With the opening of its first GUESS Store on Level 0 at Bay Street, St Julian's, the DIZZ Group aims to attract new clients to the global lifestyle and fashion brand.
"GUESS is a very important brand for us," a DIZZ Group spokesman said at the store opening last month. He added: "This is a brand that appeals to a medium class clientele so we have great expectations."
DIZZ Group are investing heavily in the new concept: up to €1.5 million in the coming months, with new stores at The Point and an upgrade of its Bisazza Street, Sliema, store. As a result, the Group is confident it will increase sales by 20% for this brand. The results are already evident, with increased footfall and increasing sales.
In line with the restyled global retail store concept launched in 2016, the new GUESS store welcomes customers in an exciting and inspiring atmosphere. Its clean white setting, with bright, high-tech lights and contrasting materials creates a decidedly contemporary and modern feel.
The new layout celebrates GUESS's heritage, with a feeling of depth enhancing the products on display. The acclaimed accessories collections take centre stage in the Bay Street outlet, making the product presentation visible from every angle of the store.
Renowned around the world over for its young, sexy and contemporary collections of apparel and accessories, GUESS prides itself on continuously keeping up with the latest trends and customer demands.
Among the innovations are a striking front window display that incorporates a combination of four large TV screens on each side of the entrance. These, along with the large flat screen TV on the wall at the back of the store, continually feature GUESS fashion shows and interviews with their top models.
DIZZ Group intend to open a new outlet, GUESS Kids, at The Point in the first quarter of this year.
The GUESS store at Bay Street is open from Monday to Sunday from 10 a.m. to 10 p.m.