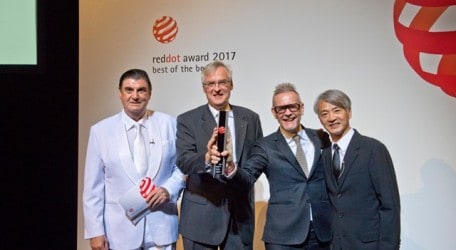 Mazda ascended the podium again recently at the Aalto Theatre in Essen, Germany to receive the "Red Dot: Best of the Best" prize for the Mazda MX-5 RF and its KODO – Soul of Motion design. It was the second time a fourth-generation "ND" MX-5 won the top accolade at the annual Red Dot product design contest. Launched in Europe earlier this year, the RF (retractable fastback) edition of Mazda's legendary roadster repeats the success of the soft-top version, which captured the same honour in 2015.
"This is very gratifying for all of us at Mazda after the enormous effort that went into the RF," commented Mazda Europe's design director Kevin Rice, who accepted the award. "The current MX-5 generation was an exercise in innovation on both a design and a technological level to uphold more than a quarter century of rich Jinba Ittai driver-and-car-as one tradition. The RF takes this a step further, deepening the ownership experience with the fastback styling and flexibility of a highly unique retractable roof. The result is an undeniably elegant rendition of Jinba Ittai in an MX-5 for all seasons and situations."
An imaginative symbiosis of form and function, the RF features a three-piece power retractable hardtop whose 13-second opening or closing sequence is a spectacle in itself. It thus combines all-weather coupé practicality with the hair-in-the-wind spirit that inspired the original "NA" 
MX-5 introduced in 1989. And with the same aggressive face, strong stance, short overhangs and underlying SKYACTIV Technology as the soft-top "ND", the RF delivers all the fun drivers of the world's best-selling two-seater have come to cherish.
The jury of 39 designers, professors and journalists bestowed "Best of the Best" honours – reserved for the most exceptional designs – on only 102 of the 5,500-plus entries to the 2017 Red Dot product design contest.
Mazda has now won six Red Dot prizes for its KODO-based models: The Mazda CX-3 and Mazda2 collected awards in 2015 (alongside the soft-top MX-5) after the Mazda3 and Mazda6 took home accolades in 2014 and 2013, respectively. Criteria for the Red Dot competition include innovation, functionality, ergonomics, symbolic and emotional content, self-explanatory quality and ecological compatibility.
Award-winning products, chosen this year in 47 categories including cars & motorcycles, will be on display at the Red Dot Design Museum Essen for five weeks and have earned the right to bear the "red dot" symbol. One of the world's largest product competitions, Red Dot was initiated in 1955 by the Essen-based Design Zentrum Nordrhein Westfalen.